Chicago Bulls center Joakim Noah will reportedly undergo surgery on his right thumb. Posted by Ben Golliver.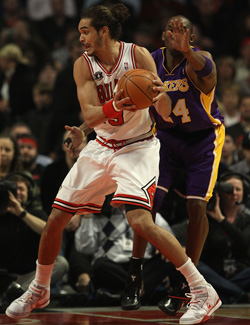 Wednesday morning
, we noted that Chicago Bulls center Joakim Noah has been dealing with pain on his injured hand. Wednesday night,
the Chicago Tribune reported
that Noah will undergo surgery on his right thumb.
Joakim Noah is scheduled to undergo surgery on his right thumb, two team sources told the Tribune.
The Bulls' starting center could be sidelined for up to 10 weeks. Noah played with the injury Wednesday night against the Raptors after team physicians determined he could do no further damage to the injury.
The Bulls sent out a press release Wednesday night with additional details.
Chicago Bulls center Joakim Noah will have surgery to repair a torn ulna collateral ligament in his right thumb. The surgery will be performed tomorrow morning by Dr. Mark Cohen and Dr. John Fernandez of Midwest Orthopaedics at Rush University Medical Center.
Noah was first injured in the Nov. 27 game at Sacramento, and he has played the last two weeks with ongoing discomfort and slight functional impairment. Additionally, Noah has had significant sprains of his right index and middle fingers, which will not require surgery.
"Joakim's injury presentation was unusual in that he was able to function at a high level with the injury. More often, athletes are unable to play at all due to pain and instability of the thumb," said Chicago Bulls Head Team Physician Brian Cole. "As the days proceeded from the original injury, it became clear for all that surgery was best for Joakim," said Chicago Bulls General Manager Gar Forman. "We have always valued Joakim's toughness and willingness to put the team above himself, but in this case his health took precedence."
The Bulls, at 15-8 entering Wednesday night's action, are looking like runaway winners of the Central Division, so this isn't crippling news by any means. But it surely is frustrating for Bulls fans who simply want to see the team's frontline healthy and playing together. Forward
Carlos Boozer
just
returned from a hand injury
less than two weeks ago after missing the first month of the season. Noah averaged 14.2 points, 11.7 rebounds, 2.8 assists, 1.2 steals and 1.6 blocks in 37.2 minutes per game. That's a ton of minutes, and the Bulls will struggle to fill that hole given their available personnel. Chicago will likely continue to rely heavily on Boozer, who is averaging 15.5 points and 8.0 rebounds in eight appearances so far, and ask more from
Taj Gibson
, who has played 25 minutes a night. Rookie
Omer Asik
is also likely to see his role increased, perhaps dramatically, as he is the only legit center-sized player in Chicago's bench rotation.