Cleveland radio station 96.5 FM has digitially edited a popular Jay-Z song so that the word "LeBron" is indecipherable. Posted by Ben Golliver.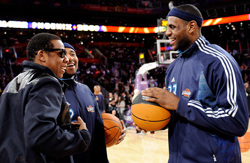 One look at all
the signs and shirts
displayed and worn by
Cavaliers
fans the Miami
Heat
's trip to Cleveland earlier this month makes it clear exactly how welcome
LeBron James
is in Ohio these days.
WaitingForNextYear.com reports
that Cleveland radio station 96.5FM WAKS has taken that dislike a step further, digitally editing "Empire State of Mind," a popular rap song by Jay-Z, to obscure the word "LeBron" so that it cannot be clearly understood on the radio.
What was once "[If] Jeezy's paying LeBron, I'm paying Dwyane Wade" – a reference towards the purchase price of an illegal drug – is now relatively indecipherable as the two-time NBA MVP's name is edited – or as female hip-hop star Missy Elliot calls, "flipped and reversed."
WFNY caught up with the man behind the decision, night time disc jockey ("Java") Joel Murphy, to discuss the move. Murphy tells us that the decision was more of an epiphany, but its one that the station feels resonates well with Clevelanders given their well-documented feelings towards the departed James. "I was playing the song and realized that the word "LeBron" is as offensive to some people as the 'Seven Words You Can't Say On The Radio,'" said Murphy. "Anytime one of those words shows up in a song, we either bleep it, cut it out completely or obscure it by flipping it backwards. So, I suggested to our programming dept that we should treat the name "LeBron" similarly."
Hats off to WAKS for the creative and above-board nature of their LeBron-hating. It's enough to make this blog consider a similar policy, but we write about James so much if we did implement similar censorship there would be so many asterisks it would look like it was snowing year-round.
Hat tip: Deadspin.