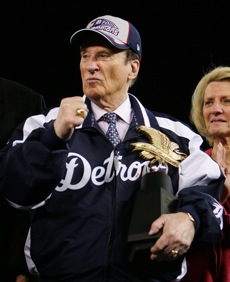 Posted by Royce Young
It was mentioned in today's Shootaround,
but the
Pistons
could be having issues with their sale to Mike Ilitch. Issues may not be the right word. "Big stinking problems" probably is a little more accurate.
According to Forbes,
after agreeing to buy the team for more than $400 million, Ilitch discovered the team's revenues presented to him in the "prospectus" were inflated. Ilitch got mad, lowered his offer and naturally everything blew up.
Forbes estimated the franchise was worth around $450 million last year.
Karen Davidson is the current owner, took over when he husband Bill passed away last year. He loved the team; she doesn't. So she looked to sell and hired Citi Private Bank Sports Advisory to help sell the team and the arena.
Ilitch, the founder of Little Caesars Pizza, of course also owns the Detroit Red Wings and Detroit Tigers and was looking to buy the Pistons. He's a Detroit man and one of the top owners in all of sports. The fit was natural. So for him to get angry over this revenues issue much mean there's a pretty significant problem.
Add together this issue with Ilitch, plus the still slumming state of Detroit's economy and it's hard to imagine Davdison could get anywhere near the $400 million Ilitch was going to pay. Owners buy teams to make money. It used to be you bought a team, watched it lose a little here and there and banked on it to appreciate so you could sell it in 15 years for big dollars. That doesn't happen as much now. Owners don't want to see their dollars get drained by a sports franchise.
So the Pistons sale could be in jeopardy. This of course after the
Hornets
sale recently fell through, which forced the NBA to step up and assume ownership. That won't happen with the Pistons though, because there are still other prospective buyers and the current owner isn't pressing to sell
now.
Besides, after some negotiation, I'm sure Ilitch might be able to get the price to where he's more comfortable.
Other candidates to purchase the team included venture capitalist Tom Gores, a Flint native and Michigan State University graduate; a group headed by George Postolos, a former Houston
Rockets
executive who also was special assistant to NBA Commissioner David Stern; and a group with ties to Dubai.