Houston Rockets center Yao Ming has suffered a stress fracture in his left ankle and is out indefinitely. Posted by Ben Golliver.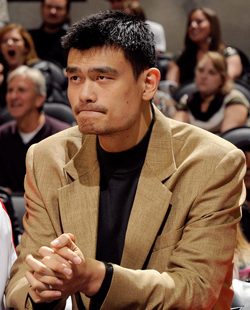 The Houston Rockets have informed the media via press release that Yao Ming, the team's franchise center, who missed all of last season due to injury and has missed significant playing time this season as well, has suffered a stress fracture in his left ankle, and is out indefinitely.
An MRI performed today on Rockets center Yao Ming revealed a stress fracture of the Medial Malleolus in his left ankle. The fracture, which is related to his previous injury of the Tarsal Navicular bone, presented itself during the course of his current rehabilitation program. There is no timetable for his return at this time.
The team will have no additional comment at this time. Information regarding his treatment program will be made available at a later date.
The
Houston Chronicle
speculates on Twitter
that Yao's future as a professional is now up in the air, both this year and beyond. "Wondering now if he'll ever return ... Yao said the obvious in summer. If can't stay healthy, can't keep playing. Is it over?," tweets the paper's Rockets beat writer, Jonathan Feigen. This is season-crippling news for the Rockets, who are already in the Southwest Division's basement at 10-15. Yao, one of the league's most productive and dominant big men when healthy, has struggled to stay on the court since he missed just two games combined in his first three NBA seasons. Aside from a strong 2008-2009 season, which led to a nice playoff run for the Rockets, Yao has not played more than 60 games in a season, and he missed all of the 2009-2010 season with a hairline fracture in his left foot. Yao appeared in just five games this season, before
ankle and leg injuries
began to dog him again. He averaged 10.2 points, 5.4 rebounds and 1.6 blocks in 18.2 minutes per game, and was placed on a
strict playing time limit
. Without Yao, the Rockets will continue to make due with a frontcourt rotation that includes big men
Luis Scola
,
Brad Miller
,
Chuck Hayes
and
Jordan Hill
. Yao, at age 30, is in the final year of his contract, making $17.6 million this season. Given his uncertain health, that contract could become a trade chip for the Rockets, who have been linked in a number of trade talks. Even if Yao completes the season without being moved, the Rockets will have a decision to make on his future with the team. Yao's persistent injuries have left the team in limbo the last few seasons, and made for a trip to the draft lottery last season and potentially a similar trip this season. Yao will also have a decision: Does he still want to continue playing basketball? Perhaps it's time for both parties move on.