Boston Celtics president Danny Ainge reports that guard Rajon Rondo will miss time with an ankle injury. Posted by Ben Golliver.
Boston Celtics president Danny Ainge
told Boston radio station WEEI
on Thursday that Celtics point guard Rajon Rondo will miss "a couple of weeks" with a left ankle injury. Rondo sprained his ankle while driving to the hoop during the early fourth quarter of Wednesday's game against the New York
Knicks
and briefly left the court with the assistance of teammates and training staff members. He later reappeared during the game, but was clearly favoring the ankle and not moving smoothly. Here's video of the play, courtesy of
NBAfufu on YouTube
. And here's a snapshot of Rondo rolling his ankle on the play. You can clearly see it's a severe roll.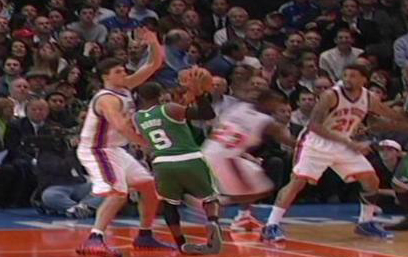 Image courtesy of @Jose3030
(as always). Prior to Ainge's declaration, Rondo told reporters on Thursday morning that he would attempt to play Thursday night, as the Celtics host the Atlanta
Hawks
.
ESPNBoston.com quotes Rondo
acknowledging pain but expecting to play.
"It hurts, but all ankle sprains hurt," said Rondo, who has also battled a sore left hamstring, which recently sidelined him for five games, and plantar fasciitis. "I expect to play. I think I'm going to do [X-rays Thursday] morning and see how I feel. Get through the night and hope it doesn't swell up."
Rondo has averaged 11.2 points, 4.5 rebounds, a league-leading 13.8 assists, and 2.3 steals in 38.5 minutes per game so far this season. The Celtics have the best record in the Eastern Conference, at 20-4. With guard
Delonte West
already out with a wrist injury
, the Celtics will have to lean more heavily on backup point guard
Nate Robinson
.