Posted by Royce Young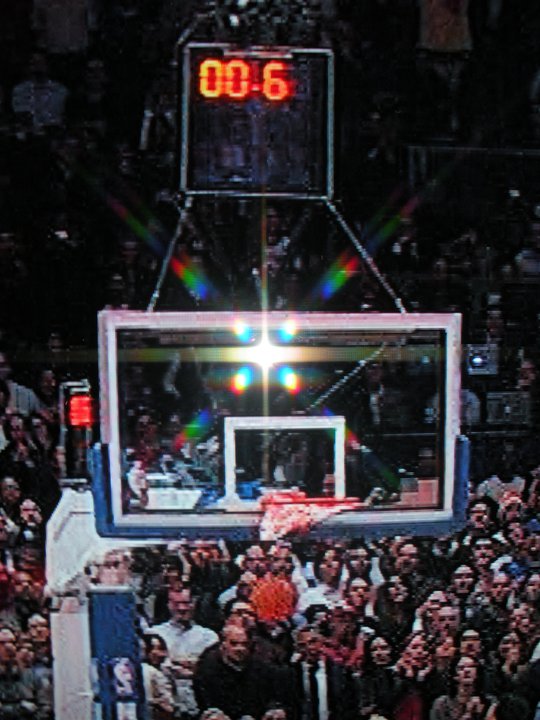 By now, you've seen
Paul Pierce
's game-winner that beat the
Knicks
. Which means you also saw
Amar'e Stoudemire
's almost-game-winner that came just a couple tenths of a second late.
But have you seen how
maybe Stoudemire should've had more time to shoot?
At least 0.6 seconds it appears instead of the 0.4 he got. When I saw the play happen live, I wondered if the Knicks should've gotten more time put on the clock. I thought, "Oh they'll review this at least to make sure." Boy, wasn't I surprised when I found out that's not a play that "triggers" a review as the league told CBSSports.com.
I always assumed that play was reviewable. But it's not.
NBA replay rules state
replay may also be used in cases where the "game clock malfunctions and play continues to decide how much time to take off the clock."
Specifically, this is the rule:
[Replay may be used when] the game officials are reasonably certain that a game clock malfunction has occurred during the play. (A game clock malfunction includes situations caused by a mechanical malfunction or human error, such as a clock starting too soon or too late or an inbound play, stopping during play (whether or not it is re-started), or running too quickly during play, but does not include discrepancies resulting from what the officials determine to be normal reaction time or reasonable anticipation in starting the clock.

So like the league told us, replay doesn't fall under Pierce's shot. There was no malfunction there. The clock operator (being totally human) just got the clock stopped when he/she did. Maybe you could say it was under the "human error" guise outlined in the rules, but again like the league said, that allows for when a ball is inbounded, not for when it passes through the net. And notice the last line: "But does not include discrepancies resulting from what the officials determine to be normal reaction time or reasonable anticipation in starting the clock." I would say an operator stopping the clock in Pierce's situation counts as "normal reaction time."
The only way it would've been reviewable is if the clock would've went to zero. Then there could've been a review to see how much time should've been placed back on the clock.
Clearly, that's settled. The officials handled everything correctly. No foul play, nothing done wrong. But that's not the question. The question is, shouldn't that have been reviewable?
I'm reminded of the 2009 Big 12 Championship football game
where Texas quarterback famously threw the ball out of bounds with one second remaining on the clock. The ball bounced out of bounds, but the final second ticked off. Nebraska, thinking they had won, ran on to the field celebrating. The officials used instant replay to see that one second should be put on the clock, Texas got a shot at a field goal - which it made - won the Big 12 title and played for the National Championship.
That wasn't a malfunction either. Just a clock operator being a little slow with the trigger finger. I don't think anyone would blame the clock operator in that situation. Nobody is going to get that right. It's not scientifically possible to react that quickly, to see something, process it and then have your brain tell your finger to push a button. It's just not possible.
But if the NBA rules say that the clock is supposed to stop when the ball comes through the net, aren't the Knicks owed those two tenths of a second? And if replay is there to make sure black and white issues like that are correct, shouldn't replay be used in that situation?
Replay is used in almost dozens of other clock related situations, so why not this one? Obviously the counter here is that the clock stops after every made basket, meaning that dozens of tenths of a second are lost throughout the game. Really, after every dead ball you could review to get the clock correct. So should every play be reviewed? Clearly no. Again, what if the shot comes with 1.8 seconds but there should be 2.4? What if it comes with 9.5 and there should be 9.8? You could have games go on for days.
But in a late, crunch time situation like with the Knicks and
Celtics
, it makes sense to a degree. Again, like the college football game, seconds are lost all the time throughout it where the clock person doesn't get the button pushed on time. But in that big moment where things needed to be correct, replay was used and they got the call right. And it decided the outcome. Maybe the same thing would've happened with Stoudemire's 3 had that play been reviewed. Maybe in that specific circumstance is to allow review when the clock winds to where it's under where a guy can catch and shoot. Since there's a much, much bigger difference in 0.4 and 0.6 seconds than there is with 1.8 and 2.0.
Over the summer, the league expanded replay rules to include a number of different things. Maybe after the light controversy this called in one of the best regular season NBA games we're going to see this year, next summer there might be another change.