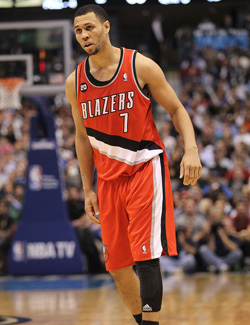 As news comes of Roy missing games, we explore how Portland is headed for major change.
Posted by Matt Moore
I see a bad moon rising. I see trouble on the way. I see earthquakes and lightning. I see a bad time today. And it's all in Portland.
Earlier this week,
Brandon Roy
spouted off to the media about
Andre Miller
, and not in the "I love my teammate" way. He threw his teammate under the bus. From the
Oregonian
earlier this week:
"I dont know how people want us to play, because this is the personnel we have," Roy said. "I wasnt that slow until you put a guy who is kind of slow next to me. Ive always been kind of slow ... not to be controversial at all, but I was slow my rookie year, and now its ..."
Frustrated, Roy shook his head.
via
Memphis 86, Portland 73: Late swoon sinks Blazers again | OregonLive.com
.
In case that wasn't clear, the "slow" guy is Andre Miller, starting point guard and the Blazers' big free agent acquisition. That's a pretty clear shot across the bow for a guy who's always been known as the stand-up star in Portland. But as Roy's health has deteriorated, he's become progressively more abrasive. He's not okay with who he is at this point, which is natural. He's been robbed of his game, his explosiveness, of his abilities, and that tends to set you back, emotionally. He's still able to hit that step-back jumper, can still be an assassin. But it's every time down the floor, the percentages keep dropping.
Now, we find that Roy i
s out three games
and will be evaluated after that. This comes the day after an ESPN report of a conversation between Roy and management
about it not working
with Miller. It should be noted that report is about as hearsay-ey and a report can get. Taken alone, it's just one of the usual blips in a season. But this is not an isolated incident. There's a pattern forming here. One that spells the end of this Blazer team as currently constructed, and leads to the idea that this team is likely headed for a pre-deadline blow-up.
Ken Berger of CBSSports.com reports t
hat the team is considering ditching its veterans
and going young, moving
Marcus Camby
and Andre Miller. It would mean a total and complete blowup of a team that just a few years ago was considered to be on its way towards a championship. Since that time,
Greg Oden
has gotten hurt 1,700 times, Kevin Pritchard has been fired along with Tom Penn, and now Brandon Roy is on the shelf, for what rumors say may be a longer stint than expected. This was a team that with
Steve Blake
,
Travis Outlaw
,
Martell Webster
,
Nicolas Batum
, Oden, Roy, and Przybilla was legitimately looked at as a team that would contend in a few years. Oden was the first domino to fall, and in a mixing of metaphors, Roy may be the nail in the coffin. Even with a scrappy playoff appearance last year and a push of eventual Western Conference Finalist Phoenix, the book has been out on Portland for a while. They simply have not had the fortune you need to build a contender. You can have the talent, the vision,the coaching, but you have to get lucky with injuries, and Portland has not, to say the least.
In the meantime, Portland and its fans are left to wonder how this all went down this way, and how it all came undone so quickly. That Roy is outspoken is not such a concern, but that he's been so forthcoming and emotional is a bad sign. It's not just that Roy's going through a hard time right now, it's that he's going through such a hard time he can't hide it from the media or people in the community. And while people there have a soft spot in their heart for him for his terrific play, at the end of the day, the team and its fans want to move towards a championship. And if Roy's unable to get it done, complaining about his backcourt partner isn't exactly going to endear him to either of those contingents.
So this is Roy, from franchise savior to malcontent, from cold blooded assassin to bench warmer. The body, this sport, is cruel and that's the way it goes. The only question will be if Roy remains in Portland once the foundation is reformed. With
Wesley Matthews
taking on the role of the franchise's go-to scorer, and a management group looking to go younger, not only could Roy conceivably be moved to someone willing to take a chance on his knees (consider Philly with
Elton Brand
or either team that signed
Grant Hill
after Detroit), but also gone could be his biggest advocate, head coach Nate McMillan. 2007 is now ancient history. And Brandon Roy's not quite ready to catch up to the times.