Atlanta Hawks all star guard Joe Johnson will reportedly start Friday night, little more than two weeks after elbow surgery. Posted by Ben Golliver.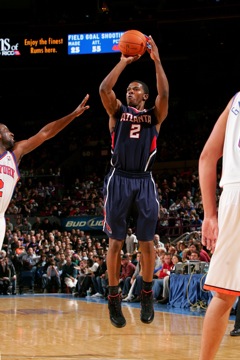 Back on Dec. 1, we noted that Atlanta Hawks all star guard Joe Johnson was undergoing arthroscopic surgery on his right elbow that was expected to keep him out 4-6 weeks. On Friday, little more than two weeks after Johnson's surgery, the Atlanta Journal-Constitution
reports on Twitter
that Johnson will start for the Hawks against the Charlotte
Bobcats
.
That he is back so soon is both surprising and remarkable, but Johnson has been a very durable player throughout his career, playing less than 76 games in just one of his nine NBA seasons.
The thing to watch on Friday night and in these coming weeks are Johnson's shooting stroke and his field goal percentage. The surgery was on his shooting elbow and while arthroscopic surgery can be relatively minor and pain-free, allowing a quick recovery, the time off from normal in-season routines can negatively affect a player's shot. Given that Johnson has never been bashful about hoisting, it shouldn't take long to determine whether the surgery has him back to normal. The Hawks were 5-4 during Johnson's absence and are currently 16-11, in third place in the Southeast Division behind the Miami
Heat
and the Orlando
Magic
. Johnson is averaging 17.1 points and 5.2 rebounds in 35.5 minutes so far this season, the first time since 2004-2005 that he hasn't averaged at least 20 points per game.