Report suggests Magic moving closer to previously discussed trade for Gilbert Arenas.
Posted by Matt Moore
Gilbert Arenas could be headed to the Magic. This is breaking, stunning news in the basketball world.
Except
when Ken Berger told you about it in October
. And then
there's this headline
from Magic blog Orlando Pinstriped Post from December 1st, a whole two weeks ago:

Huh. So maybe this isn't breaking news after all.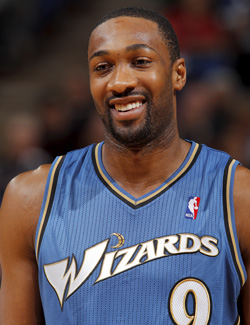 Regardless,
Yahoo! Sports is reporting
that now the Magic and
Wizards
are involved in "serious" discussions regarding a trade of Arenas to Orlando. This is opposed to previous discussions, which featured whoopie cushions, puns, and rubber chickens. Specifically advancing the story, Woj reports that Arenas has let the cat out of the bag to people close to him:
Arenas has privately told people for days that he believes a deal will soon send him to Orlando, where he'll be reunited with Magic general manager Otis Smith, a friend and mentor from Arenas' days with the Golden State Warriors . Sources said Orlando has escalated its pursuit of a deal in recent days. After losing five of their past six games, the Magic have shown more urgency to find a perimeter scorer who can help them stay a viable contender in the Eastern Conference.
No indications yet if it was Arenas' gun club he was speaking to. Speaking of bad jokes.
Orlando has to make a move and soon if they want to try and capitalize on the
Dwight Howard
window. Howard has indicated of course that he likes Orlando, but has been very clear about not verbally committing to a team that may not be contending. The Magic have taken steps back each season since their Finals appearance, starting with the decision to jettison
Hedo Turkoglu
for
Vince Carter
. Lately they've become not only mortal, but predictable. Frustrations have boiled over, and the time to make a move is now.
The teams are still debating assets to send back to Washington but Vince Carter and
Marcin Gortat
are likely being discussed.
Adding Arenas is a calculated risk. If he can stay healthy and play to his ceiling, he could be a better version of
Jameer Nelson
, alongside him. The question is whether that's enough to make a difference for the Magic versus the elite teams in the East. But with only so many stars available, you have to make a move when you have the opportunity.
This might be that time for Orlando.