Washington Wizards point guard John Wall is battling knee pain caused by a bone bruise. Posted by Ben Golliver.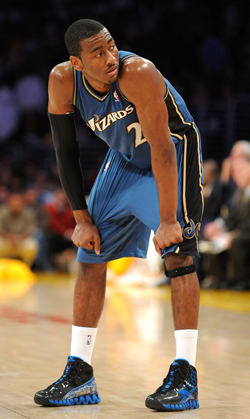 Last week,
we took note
of comments made by Washington Wizards coach Flip Saunders, who expressed some concern over the state of Wizards point guard John Wall's knees. Saunders said that he didn't believe Wall would ever be "pain free" and that it was leading the Wizards to take a careful approach in managing his return to the court. On Sunday,
the Washington Post reported
that Wall's knees may be worse than originally thought. Previously, everyone was under the assumption that Wall was dealing with tendinitis, but Wall told the paper he received a more serious diagnosis.
"I had a feeling it wasn't just tendinitis," said Wall, who was distraught when he heard the diagnosis and believes the injury is the result of compensating on earlier foot and knee injuries on the left side of his body. "I was like, 'If it's tendinitis, I would've played through it.' Tendinitis is very painful, but I played through it summer league, I play through it now. I couldn't do no squats or I couldn't really run or I couldn't cut, so I knew it had to be something more than that."
Wall said he failed in his attempts to run on Saturday. He added that he is looking into soon working with a personal trainer to help him overcome his ailments. The pain in his knee might not allow him to play this week. "Not right now. Not the way it's feeling," Wall said. "It's not really a timetable. "It might be day by day and it might end up being a week or two. I really don't know right now.
"It's pretty tough," Wall said. "I've probably missed five, six games out of my whole life playing basketball. This is the most I've missed. So it's frustrating, trying to rehab, and seeing my team out there and can't be out there and can't make plays. I think my team is doing a great job of fighting and doing as much as they can. I just can't wait to get back out there with them."
Wall, the 2010 NBA Draft's No. 1 overall pick, has missed 10 of his team's 25 games so far this season and has had his Rookie of the Year campaign derailed, thanks to Los Angeles
Clippers
rookie
Blake Griffin
's sensational, all star caliber start. Wall has also shown spectacular flashes, but the time away from the court has turned him, temporarily, into an afterthought rather than a main attraction. Young guys will always want to play through this type of pain, especially competitors looking to make a name for themselves like Wall. On paper, the Wizards look like a worst-case scenario for a player in this position. They have an owner who has made it clear he wants to greatly increase ticket sales, they have an embattled GM who has placed Wall as the franchise centerpiece from day one after spinning in circles for years, they have a desperate coach who knows he should probably be fired, and they have a roster without enough depth to reasonably compensate for Wall's absence. If ever there was a situation in which a player would be rushed back too quickly, this would seem to be it. Yet, it hasn't happened. The Wizards have done the right thing: take their lumps, exercise maximum caution, and let Wall's health, and not any outside factors or motivations, dictate his recovery timeline. The list of cautionary tales in the NBA is a mile long; a player who relies as heavily as Wall does on his athleticism won't be nearly as effective in years to come if he doesn't take care of his body, and especially his knees, at a young age. The highlights will have to wait in Washington, but for now that's a good thing.