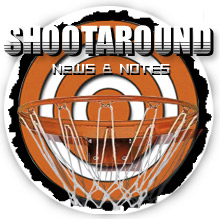 Shaq with the Boston Pops, Magic struggle in debut, Cousins the sensitive soul, and are the Clippers actually rolling? All this and more in today's Shootaround.
Posted by Matt Moore
Very quietly,
Al Horford
is having a stellar season.
Hoopinion takes a look at how his season stacks up
against
Dwight Howard
, and finds that Horford isn't so far off from the MVP candidate center.
A stellar profile of
DeMarcus Cousins
through the lens of the support network the
Kings
brought in from Kentucky for him,
in the form of a dude half his size
.
Chris Mannix of SI examines the debut of the new-look Orlando Magic and comes to the same conclusion we came to about the new-look
Heat
.
It's going to take some time
: "Orlando needs practice time. Badly. But with four games this week they won't get much of it and will have to contend with a murderers' row of games through Christmas. The Magic will host Dallas (Tuesday), San Antonio (Thursday) and Boston (Saturday). Along with Atlanta that's four talented, cohesive teams Orlando will be up against as they try to incorporate the new players into the system. Each game will undoubtedly draw a lot of attention, but expectations should be ratcheted down; this Magic team will look markedly different than the one playing in March."
So.... this happened:
Kevin Love
thinks the Wolves are immature, and that someone needs to lead them.
He's willing to do the job
.
Kobe's got his own mosaic
at the Lower Marion high school he used to attend. It's really very sweet. Unfortunately, the mosaic keeps screaming at everyone who does anything imperfectly.
Not all Cavs fans are standing shoulder-to-shoulder with Dan Gilbert, and one's gone so far as to
take out advertising on Basketball-Reference.com
to show his or her disapproval.
Holly MacKenzie
gives an insight into the shy world
of
Derrick Rose
, even as he becomes a stronger leader each day.
Probably
the best breakdown
of
Kris Humphries
you're ever going to see.
The Clippers have won three in a row, with two by 20 points or more. So...
the Clips are actually rolling
?