The Memphis Grizzlies stand behind their selection of center Hasheem Thabeet in the 2009 NBA Draft. Posted by Ben Golliver.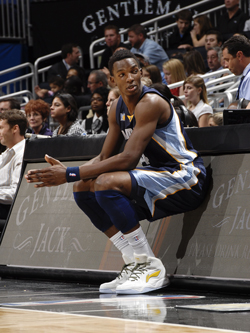 It's rare that a man as big as Memphis Grizzlies center Hasheem Thabeet, who stands 7-foot-3, can be so invisible. But in his second NBA season, he's an after-after-thought, barely seeing the court and adding little value during another frustrating season for Memphis. If anyone cared about Thabeet, there would probably be a lot more "bust" talk bubbling, but to this point indifference has ruled the day. As such, Grizzlies GM Chris Wallace did the smart thing Tuesday, standing by his center when
asked by NBA Fanhouse
whether he would reconsider the team's 2009 draft selection.
"I'm not a regrets guy,'' Wallace said. "I don't think he should be put in a dead-letter file. That's extremely premature for that.''
Thabeet, who is averaging 1.4 points and 1.3 rebounds a game, sounds like he is at a loss for why he's not very good, and it sort of makes you feel bad for him.
"It's really difficult,'' Thabeet said about living up to expectations of being the No. 2 pick. "I'm here working out. The team knows where they are with me. I'm just doing my job. I don't really have an explanation about the question I get every day. I put myself in this situation so I got to deal with it. But to be part (of the NBA) is special, and I'm happy to be here.''
I can't say I'm a huge Thabeet fan, and it would be surprising if he develops into a productive player. But while he certainly wasn't a
good
pick, it's difficult to kill the Grizzlies for making it. Before the draft, Thabeet was clearly high risk / high reward, the exact type of player a middling franchise like Memphis should take a risk on, especially considering the pieces they had in place. With young, developing guards like
Mike Conley
and OJ Mayo already in the pipeline, plus wing
Rudy Gay
fully established, addressing the frontcourt was even more important for Memphis than it usually is for lottery teams. Going down the list of players taken in the lottery behind Thabeet, the best players --
Stephen Curry
,
Brandon Jennings
, and
Tyreke Evans
-- each would likely have required Memphis to make a decision between him or Conley in the short-term. The best case scenario probably would have been to draft Evans and play him at the two guard spot, shifting Mayo immediately into a reserve role. That would have been a delicate situation, but if managed properly would have given Memphis a potent backcourt without too much roster turnover. Outside of those three point guards, there aren't many impact players in the first round, and no meaningful big man sleepers have emerged. The smart play for Memphis probably would have been to trade down, a possibility that was rumored leading up to draft night, but taking a chance on Thabeet wasn't franchise-crippling by any means. Back to Wallace's statements: it's still too early for regrets. Thabeet was drafted as a project and his rookie deal ensures that the project can continue (at a reasonable salary for a team with such a small payroll) through 2012-2013 at least, should the Grizzlies remain interested. Will Thabeet figure it out? Who knows. But
Jordan Hill
or
Tyler Hansbrough
, the next two bigs drafted, aren't leading teams to the title any time soon either.