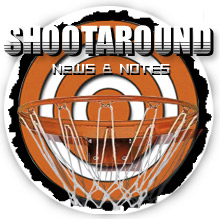 Rhino injured, Sactown's new digs, Jackson hates Christmas (games), and KG talks to himself, surprise, surprise, all in today's Shootaround.
Posted by Matt Moore
Rhino down!
Craig Smith
has
a herniated disk and will miss three weeks
. The
Clippers
are reportedly pursuing
Ike Diogu to take his spot.
Both the developers of Staples Center as well as Kansas City's Sprint Center
have been brought into discussions
for the new arena in Sacramento. Progress of any kind is welcome here in an effort to keep the team in Sacramento.
Phil Jackson is not a fan of the Christmas Day games. It is important to remember players have families, just like the rest of us. Then again, lots of people work on Christmas. Jackson's problem seems to primarily be with the religious nature of the holiday, but given the diverse religious nature of the league, that doesn't really seem like it's a practical consideration. Touchy issue, for sure. It's also the 12th time the
Lakers
have played on Christmas. You'd think Old Man Winter would be used to it by now.
The Sixers lost to the
Bulls
last night... no, I mean, the
Sixers lost
to the Bulls last night.
Paul Flannery
with a fantastic look
at
Celtics
practice, including another look at just how much of a psycho KG is: "With
Nate Robinson
isolated on defense at the top of the key and a screen coming from the man he's defending, Garnett takes over. He doesn't so much yell as make himself heard. 'By yourself, Nate. By yourself, Nate.' Then when the screen comes, 'It's hot, Nate.' Garnett continues to do this every single time, over and over. This is a small but important part of what he is trying to accomplish during the workout, and in doing so he is also setting an example for the other big men. (Garnett also talks to himself as much as he talks to other players. After setting a screen that freed
Ray Allen
for a jumper, he blurted to one in particular, 'Nice pick, Kev.')"
Trevor Ariza
:
super-defender, super-bad on offense
.
The
Grizzlies
play the
Raptors
on Monday. But their scouts have been in Toronto
for a while now
. Coincidence?
Larry Bird
texted Dirk to congratulate
the Big German on passing the Legend on the scoring list.
Kendrick Perkins
,
inching closer
.
Pink
kicks for a good cause
.