Charlotte Bobcats head coach Larry Brown has resigned and his staff has reportedly been fired. Bobcats owner Michael Jordan is reportedly set to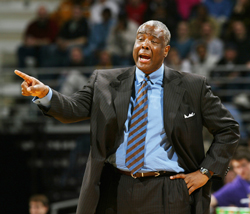 name Brown's replacement on Thursday. Who will it be? Posted by Ben Golliver.
Charlotte Bobcats owner Michael Jordan is obviously frustrated with the direction of his team, which is currently in fourth place in the Southeast Division with a record of 9-19. Jordan has been shopping his two co-captains,
Gerald Wallace
and
Stephen Jackson
, and
earlier today we noted
that Bobcats head coach Larry Brown resigned, and his entire coacing staff is reportedly departing along with him. So who will Jordan tab as Brown's replacement? Here's a look at seven possibilities, some more serious candidates than others.
Paul Silas
: Both
Yahoo! Sports
and
CBSSports.com's Ken Berger
report that Silas is the early favorite to take the job, and he's an NBA lifer. Silas was
LeBron James
's first coach in Cleveland, and was also the head coach of the New Orleans
Hornets
.
Back in April 2008
, before Brown was hired, Silas called the Bobcats head coaching position a "dream job." According to the report, he lives in North Carolina. His career coaching record is 355-400.
Mike Woodson:
Again, according to CBSSports.com and Yahoo!, Woodson is another strong possibility. He coached the
Hawks
from 2004-2010, before departing after a disappointing playoff exit last Spring. Under his guidance, the Hawks made the playoffs each of the last three seasons. His career coaching record is 206-286.
Darrell Walker:
The former head coach of the Toronto
Raptors
and Washington
Wizards
, Berger reports that Walker is close to Jordan. His career record as a head coach is 56-113, and he is currently an assistant coach with the Detroit
Pistons
. Walker played in the NBA for 11 seasons, and was briefly a teammate of Jordan's in 1992-1993 with the Chicago
Bulls
.
Patrick Ewing
: A rival of Jordan's both in college, at Georgetown and in the pros, as a Hall of Fame center for the New York
Knicks
, Ewing brings no head coaching experience to the table. However, he's served as an assistant coach with the Orlando
Magic
for a number of seasons. His hiring would be quite surprising, however Jordan is known to surround himself with people he trusts, and his relationship with Ewing spans three decades. Yahoo! lists Ewing as "under consideration," while Berger says he is "in the mix."
Jeff Van Gundy
: Ewing's former coach, who also coached the Houston
Rockets
, is a regular in NBA coaching carousel chatter. Currently an analyst for ESPN. He's the brother of Orlando Magic coach Stan Van Gundy, and boasts a career record of 430-318. He's been rumored to be linked to jobs in the past, and was even rumored to be a potential replacement for Miami
Heat
coach Erik Spoelstra if their season continued to go poorly, but he hasn't coached in the NBA since 2006-2007.
Mark Jackson
: Another former Jordan rival on the court, Jackson is widely considered the best former player who has yet to be given an NBA head coaching job. A point guard for multiple teams, including the New York Knicks and Indiana
Pacers
, Jackson is No. 3 on the NBA's all time assists leaderboard, trailing only John Stockton and
Jason Kidd
. Jackson is Van Gundy's broadcasting partner on ESPN and is known for coining really annoying phrases such as, "Mama, there goes that man!" and "Hand down, man down!" He's also been linked to multiple jobs, but has never taken the bait.
Mike Brown
: The former coach of the Cleveland
Cavaliers
was let go earlier this summer when Cavs owner Dan Gilbert was trying to do everything possible to retain free agent forward LeBron James. He might be the most talented coach available, but is known for his slow-down style on offense. His career record is 272-138, and he won 50 or more games in four out of his five seasons in Cleveland, including 60+ wins twice. Berger says Brown is not under consideration. Who do you think should be the next coach of the Bobcats?
Weigh in on Facebook right now
.