The Charlotte Bobcats have named Paul Silas as their interim head coach, replacing former head coach Larry Brown. Posted by Ben Golliver.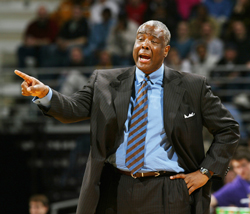 Earlier today, the Charlotte Bobcats and owner Michael Jordan announced that head coach Larry Brown was
leaving the franchise
. Shortly thereafter,
we asked who might be tabbed as Brown's replacement
? Within a few hours, we have our answer to that question. The Bobcats have announced that Paul Silas will step in as the team's interim coach.
Charlotte Bobcats Chairman and CEO Michael Jordan today named Paul Silas interim head coach of the team, effective immediately.
In 10 seasons as an NBA head coach, Silas has a career record of 355-400 with the Clippers (1980-83), Hornets (1999-2003) and Cavaliers (2003-05) He has also spent 11 seasons as an assistant coach for the Hornets, Knicks, Nets and Suns.
During his four-plus seasons as head coach of the Hornets, Silas compiled a 208-155 (.573) record and led the team to the playoffs in each of his four full seasons. He remains the team's all-time leader in coaching wins and ranks second in winning percentage. Silas was named interim head coach of the Hornets on March 7, 1999, and led the team to a 22-13 record over the final 35 games of the 1998-99 season after replacing Dave Cowens. A 16-year NBA veteran, Silas averaged 9.4 points and 9.9 rebounds in 1,254 career games for the Hawks, Suns, Celtics, Nuggets and SuperSonics. He was a two-time All-Star (1972 and 1975) and won three NBA Championships (1974 and 1976 with Boston and 1979 with Seattle). Silas currently ranks 19th on the NBA's career lists for rebounds (12,357) and games played (1,254).
As we noted earlier, Silas emerged almost immediately as the front runner. An NBA lifer and Charlotte-area resident, Silas was
LeBron James
' first coach in Cleveland. Back in April 2008, before Brown was hired, Silas called the Bobcats head coaching position a "dream job." Our partner in crime, CBSSports.com's NBA Blogger Matt Moore, provides a rundown of the busy day in Charlotte on video. Have a look.