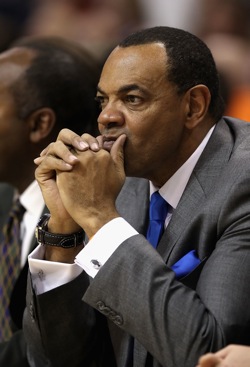 Posted by Royce Young
Strange days in Memphis right now. So strange in fact that the
Grizzlies
head coach, Lionel Hollins, took to yelling at some fans during last night's game.
Via Chris Vernon's Twitter,
Hollins apparently told a group of 17-year-olds to "shut the f*** up" after the kids made a bunch of noise about putting
Zach Randolph
back in the game for
Hasheem Thabeet
. Yep, Hollins evidently freaked out over a pefectly logical demand from some fans that obviously should be the ones coaching the Grizzlies.
Hollins said that it was a bunch of "drunk unruly fans" yelling at him after the game and that he told them to pipe down, but apparently, he was a little off. But in Hollins' defense, sometimes it is a little difficult to tell the difference between drunk loud-mouths and 17-year-olds.
The bad news for Memphis is, these were season ticket holders since the Grizzlies moved to Memphis. They have six (six!) season tickets and even plan family vacations around road games. So yeah, I'm thinking the organization isn't going to be psyched about this whole thing.
Vernon says that the Grizzlies had a representative go over to the kids and ask for the phone numbers so the Grizz could send some gear and tickets to them because they felt bad about Hollins' reaction.
General manager Chris Wallace has a weekly radio program and the dad of the kids that Hollins yelled at called in to ask about the situation. The dad, who isn't holding grudges, said he's not mad at the Grizzlies and just said that Hollins needs to be more professional. Um, duh dad.
Realistically, it's unlikely the Grizzlies punish Hollins publicly for this situation, but I'm sure owner Michael Heisley called him into the principle's office to talk about it. Memphis is struggling to bring fans to games and here is the coach yelling at the children of a season ticket holder that doesn't hold two seats, but six. I'm thinking that's not something ownership is going to be psyched about.