Everyone wants to receive cash for Christmas, and everyone hopes Santa Claus doesn't leave coal. We hand out cash and coal to the NBA's teams,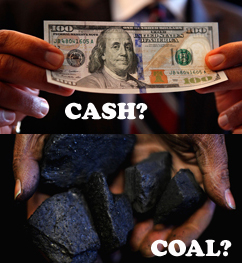 players and executives based on their pre-Christmas performances. Posted by Ben Golliver.
Christmas Day: when your greatest hopes either come true, or come crashing down on top of you. You either get what you want, or hate what you got. Christmas expectations can be a mother, just like expectations in the NBA. The NBA Facts & Rumors staff sat down and tossed out this question: Who in the NBA deserves cash (what we all secretly want) and who deserves coal (what we all not-no-secretly fear)? Who was nice and who was naughty? The results are in. Check them out below.
CASH
Matt Moore --
Indiana
Pacers
:
Darren Collison
isn't the man in Indiana, not yet. He doesn't need to be. But what was an incomplete and inconsistent team last year is much more solid thanks to the contributions of the players the front office decided to add, and the ones they decided not to get rid of. That the Pacers are within range of the playoffs demonstrates that their moves were sound.
James Posey
provides leadership, Collison provides another PG weapon along with
T.J. Ford
(how many teams have point guard surpluses?), and
Roy Hibbert
has continued to flourish. Good job all around by Larry Bird and the Pacers front office.
Royce Young
-- Amar'e Stoudemire: When the big summer free agency bonanza started, not many had
Amar'e Stoudemire
as a big prize. Most actually felt like
Chris Bosh
was the real power forward that should be on everyone's wish list. However, it's turned out Stoudemire has been everything the
Knicks
wanted and needed. He's exciting, has the star power to last in New York and most importantly, has led a pretty good turnaround for the Knicks. Plus, don't ignore what
Raymond Felton
has meant to the team. His offseason signing was seen as something to bridge the gap until the Knicks could get something better, but he's turning in an All-Star caliber season so far.
Ben Golliver --
Wesley Matthews
:
Not like he needs the money after inking a five-year contract this summer, but Portland
Trail Blazers
guard Wesley Matthews has earned it, thanks to rock solid play in the first third of the season. Stepping into the starting lineup in place of small forward
Nicolas Batum
, and then sliding over to two guard when
Brandon Roy
went down to injury, Matthews has proven to be a versatile dynamo on both sides of the ball. His relentless optimism and hustle, along with renewed spirit from
LaMarcus Aldridge
, have been the main reasons Blazers fans haven't totally abandoned ship during another injury-plagued season. From unknown to overpaid to properly valued, it's been a rollercoaster ride for Matthews, but he deserves all of the recent praise, and more.
COAL
Ben Golliver -- Paul Westphal: The Sacramento Kings are the league's worst team, and it's not by accident. The list of Westphal's sins is a mile long. He hasn't harnessed promising rookie DeMarcus Cousins, and he hasn't even provided him with very good direction. He's failed to honestly assess and remedy the team's offensive failings. He's watched as star guard Tyreke Evans has taken a step back after a Rookie of the Year campaign. He's reportedly "lost the locker room" after juggling his lineups so often. He's lost lots and lots and lots of games. No one, save his immediate family, would be upset if he was ousted in Sacramento in the near future, and that's the definition of a man that's earned himself some coal.
Matt Moore --
Joe Dumars: There's a song "A Change is Gonna Come." Apparently Joe Dumars has never heard this song. In the midst of a failing economy with too much money on the books and a disastrous season before, Dumars elected to stay the course. And that's led the
Pistons
right into the rocks, even worse than last year. Rip Hamilton is clashing with teammates, John Kuester's clashing with everyone, and the Pistons are struggling, even as they have recently shown signs of life. The Pistons don't just need to make moves, they have the ability to with the talent they have and the contracts on roster. Joe Dumars gets coal not for doing something naughty, but for not doing anything nice at all.
Royce Young
-- New Jersey
Nets
: The Nets figured to be players in the market last summer but missed out on all the big name players. They felt obligated to do something, so they made a couple moves to try and bolster the roster. Potential scorer
Travis Outlaw
,
Jordan Farmar
, and
Anthony Morrow
were signed, plus they traded
Courtney Lee
for
Troy Murphy
who appeared to be someone to help inside. Instead, the Nets are 9-21 and Murphy has been on the end of the bench for most of the season. The Nets whiffed on the big names in free agency and look to have missed on the players they did get.