The Washington Wizards suspended Andray Blatche and JaVale McGee for getting into a fight at a nightclub, and both players apologized.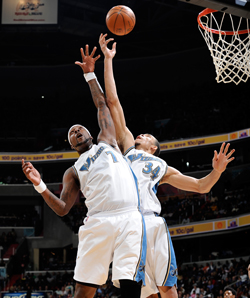 Posted by Ben Golliver.
On Friday
, we noted that Washington Wizards forward Andray Blatche and center JaVale McGee were reportedly involved in a fight at a DC-area nightclub that involved punches being thrown. While details of the Christmas Eve altercation weren't initially clear, the
Washington Post
reports that the Wizards
investigated the incident
and
decided to suspend
Blatche and McGee for one game for "conduct detrimental to the team." The players will serve their suspension during Sunday night's game against the San Antonio
Spurs
.
Witnesses at the club have said that the Wizards' starting front line cursed at each other, while two sources added that Blatche and McGee exchanged punches before being restrained from each other. According to one source, Al Thornton attempted to break up the fight and was punched by a club bouncer. Police were called on the scene, but no arrests were made and there were no injuries.
Blatche, the Wizards' leading scorer, originally denied that he and McGee fought, claiming that the two had "only one push" while exiting the club in an effort to avoid other fights inside. The Wizards stated that it was "simply a disagreement between teammates" on Friday before investigating further and determining that punishment was in order.
Blatche also
apologized via text message
to the
Washington Post
.
"I'm very sorry for the incident. I had no intention of this ever happening. I apologize for my behavior, to my family, the whole Wizards organization, my fans, my teammates and coaches."
McGee similarly
apologized on Twitter
, where his username is "BigDaddyWookie."
I wanna apologize to the fans and the wizards organization for the immature acts that I was involved in.
Given the magnitude of a "nightclub fight" headline and the franchise's recent history with teammate-on-teammate threats of violence, completely letting this kind of incident slide would have been a public relations disaster. The suspension, although it amounts to a slap on the wrist, does send a message to fans that more is expected from Wizards players. That both Blatche and McGee apologized shows a level of professionalism that was absent on Christmas Eve. One hopes that the two young Washington big men take their late-night altercations to a practice gym, where they can push and shove and jostle for control of the paint all they like, without the need for police intervention. Entering Sunday's game, the Wizards remain 7-20, dead last in the Southest Division and the Eastern Conference.