Los Angeles Lakers forward Ron Artest gave away his 2010 NBA championship ring at a charity auction raffle that reportedly raised more than $500,000.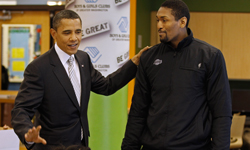 Posted by Ben Golliver.
Back in the summer
, we noted that Los Angeles Lakers forward Ron Artest made the unusual decision to raffle off his 2010 NBA championship ring, the only ring he has won to date, to raise money for a mental health awareness charity. Following the Lakers' disappointing 96-80 loss to the Miami
Heat
on Christmas, Artest followed through on his plan, handing over the ring to Raymond Mikkael, a "father of four from Hawthorne," California,
according to KTLA.com
. Mikkael held the winning ticket for Artest's raffle, which reportedly raised more than $500,000 for his Xcel University charity, which will provide support to "high-risk youth with mental health issues,"
according to the Associated Press
. The AP also reported that this is just the beginning for Artest.
"It's a good feeling, because it got a lot of publicity, and that's cool," Artest said. "I'm glad we can start over now and do some more work with charities."
If you tried to tell people back in 2004 that the Ron Artest who fought with fans in the stands during a game in Detroit would provide the NBA's best Christmas story of 2010, they would have scoffed. That Artest has gone so far above and beyond in his maturation and awareness of his role as a public figure deserves all the praise in the world. In a league known for its copycat culture, here's hoping Artest's actions inspire his fellow players to pursue creative, far-reaching charitable contributions on issues that matter to them.