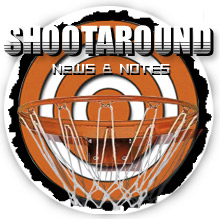 Posted by Royce Young
Is Jason Williams' career winding down?: "It's not getting any better," head coach Stan Van Gundy tells the Orlando Sentinel. "J-Will gets on it and he has a hard time pushing off that foot. He's staying behind. He wants to know what's going on. I think he's a little nervous about it right now."
Tim Griffin of the San Antonio Express-News: "The Spurs took care of business Sunday night, as you would expect from a league power against a cellar-dwelling team. But their 94-80 victory over Washington might be their last easy breath for the next couple of weeks as they approach their toughest scheduling gauntlet of the season. The Spurs will face the two-time defending NBA champion Los Angeles Lakers Tuesday night, followed by games Thursday in Dallas, Saturday against Oklahoma City, Jan. 4 at Boston and Jan. 5 at New York."
Stefan Bondy of the New York Daily News: "Avery Johnson didn't hear LeBron James throw the Nets under the contraction bus, so he didn't feel the need to defend his Brooklyn-bound franchise on the upswing. But Johnson did take exception to James' belief that the league would be better off without the Nets and Timberwolves. 'I disagree,' Johnson said Sunday. 'Maybe the league would be better if we didn't have three stars on one team.' Speaking to the media prior to Miami's game Thursday against the Phoenix Suns, James said the NBA was better in the 1980s when 'three or four superstars were on one team.' He singled out perennial bottom-feeders New Jersey and Minnesota as candidates for contraction."
Michael Schwartz: " It's always disappointing to drop a game against a losing team like the Clippers, especially considering how bad the Suns played in that first half. This is a game they should have won, and now they're three games under .500 for the first time all season thanks to the loss."
John Reid The Times-Picayune: "For the second consecutive home game, the Hornets attracted a crowd larger than 15,000. The announced crowd Sunday night at the Arena was 15,626, the second largest crowd of the season. The announced crowd for Wednesday's game against New Jersey was 15,423. The Hornets are expected to have a sellout for Wednesday's game against the two-time defending champion Los Angeles Lakers. Gov. Bobby Jindal and Mayor Mitch Landrieu have pushed for increased fan support because the Hornets can opt of their lease agreement with the state if they don't average 14,735 at the Arena for a period ending Jan. 31."