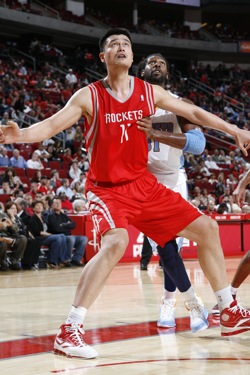 Posted by Royce Young
Following his most recent injury, it's no secret the Houston
Rockets
are looking at their options in regards to
Yao Ming
. The big man is done of the season and has a very lucrative $17 million expiring contract. Oh, and on top of that, insurance on Yao's contract offers an $8 million discount on that $17 million.
So it's natural for the Rockets to shop him.
And according to Yahoo! Sports,
Houston is exploring a Yao trade on several fronts. Also mentioned is that some teams are exploring a trade for Yao to re-sign him on a short deal, or just to get a little cap relief on his big expiring deal.
Obviously Yao isn't going to be contributing this season as he's out for the year with a stress fracture in his left ankle. So anyone that deals for him is looking strictly for a little financial flexibility. Of course his new team could re-sign him to a short-term deal for low dollars, but that's just icing.
Not many are sure that Yao will still have an NBA career after returning from this latest injury. He definitely can, and probably will, but with the injuries piling up on his 7-6 body, he becomes a major liability. So any deal he gets will likely be short and not worth a ton.
The thing about dealing for Yao's expiring contract though is in order to match that $17 million, you've got to give up quite a bit. And the Rockets know how valuable that expiring contract is so they're going to want quite a bit. The Rockets will likely be looking for a contributor that can step in and play, as well as some assets. The Rockets aren't finished yet. They are playing better and are getting
Aaron Brooks
back, which is a huge boost.
Houston is going to be shopping Yao's contract to find something that helps them now. Daryl Morey isn't a general manager afraid to swing a big deal. He's not shy about taking a risk. So it's likely Yao is moved before the trade deadline. It's just who wants to give up some players in order to achieve a little financial freedom.