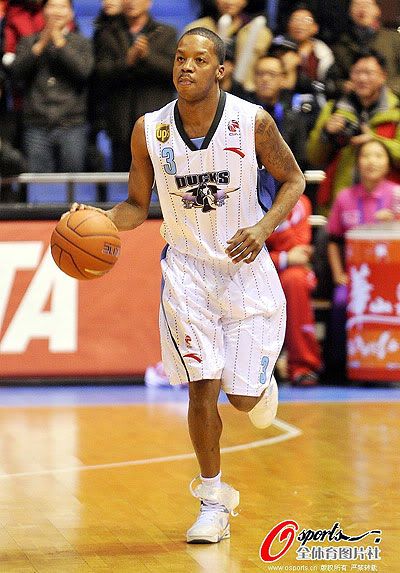 Posted by Royce Young
Well, that was quick. Steve Francis is reportedly done playing professionally in China as reports are that the Beijing Shougang Ducks released Francis.
His agent confirmed it to Sina Sports.
Francis played just four games with the Ducks and spent only 13 days with the team. He played 14 minutes a game and averaged only 0.5 points per game. So if you were to say it was an unsuccessful trip for Stevie Franchise, you'd be correct.
Evidently the rocky relationship between Francis and the Ducks came to a head on Christmas, which is a holiday not really recognized in China. Francis skipped the team's practice to spend time with his family and naturally, the team didn't like that. Before that, he walked out at halftime of a game a few days before and told the club he was willing to leave. Plus, Francis wasn't excited about the 14 minutes a game he was getting either.
Francis went to China to try and extend a basketball career that has been falling apart for years. China made some sense though because Francis had some name recognition left over with Chinese fans because of his time playing in Houston with
Yao Ming
. Reportedly ticket and merchandise sales were up since Francis arrived, but this was a relationship destined to fail.
The team though said Francis was out of shape and unable to really contribute how they hoped. Earlier in the month, the league hit Francis with a "serious warning" because of an inappropriate gesture he made on the bench.
Reportedly, Francis's deal was a one-year guaranteed contract with an option for a second season worth about $800,000.
Francis has never had the best attitude with teams or coaches so there was no reason to think this situation would be any different. Obviously he's hanging on to his basketball career by a thread and trying to get paid.