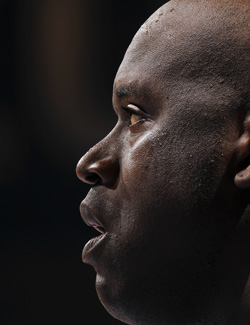 Shaq fined for comments following Celtics' Christmas loss.
Posted by Matt Moore
Following the Celtics' loss to the
Magic
on Saturday,
Shaquille O'Neal
decided that it wasn't the inability of
Paul Pierce
to score in the fourth, nor the collapse of the Celtics' defense, that led to the Magic victory. No, instead he told reporters that it was, naturally, the officials who sealed the deal for the Mickey Mouse Gang. Here's what Shaq
said Saturday from our post Sunday
:
Needless to say, O'Neal had some choice words for the officiating. "I guess they came out to see number 26 today," O'Neal said.
The only No. 26 on the floor Saturday was official Bob Delaney. "He (No. 26) was a great player out there today," O'Neal said.

O'Neal added, "They (fans) paid all that money to watch No. 26 play. If I was a fan, I would be pissed. You pay all that money for good seats, you have two of the best guys in the (NBA) sitting on the bench, out of the game. That is what happens when you have control freaks out there."
Then here's what the league said via press release Monday:
Shaquille O'Neal of the Boston Celtics has been fined $35,000 for public comments about the officiating, it was announced today by Stu Jackson, NBA Executive Vice President, Basketball Operations.
Which is a pretty strong response to the debate, all things considered.
Thing is, if you watched that game? Shaq looked slow. And old. Mostly because he's slow. And old. And if you're slow and old facing a team with young, fast players? You're probably going to pick up a fair number of fouls. It's fine for O'Neal to keep running his mouth off about this stuff, he's Shaq, that's who he is. But we should all try and keep a level head and realize that this is mostly about a player being uncomfortable with the fact that his abilities simply aren't where they used to be. He has nights where he's a dominant force inside. And he has days like Saturday, where he's less than that.
Now, O'Neal's comments regarded both he and
Dwight Howard
, so it's not an outright complaint about unfair calls against the Celtics. But ask yourself if you think the Big Shamrock would have had complaints should the Celtics have won that game? Seems unlikely.
And now, he's $35,000 lighter in the wallet. Maybe that will quicken him up.