Dallas Mavericks forward Dirk Nowitzki will undergo an MRI on his "sore right knee" on Tuesday. Posted by Ben Golliver.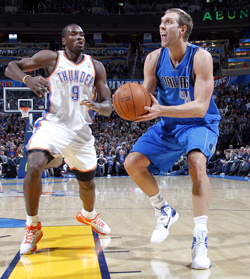 Update (Tuesday, 10:54 AM)
: The Dallas Mavericks have informed the media that Nowitzki underwent his MRI and it revealed a "sprained right knee." He will not play Tuesday night and is listed as day-to-day. As noted
in the wire report
, Dallas Mavericks forward and MVP candidate Dirk Nowitzki left Monday night's game against the Oklahoma City
Thunder
with a knee injury during the second quarter, and did not return.
Nowitzki scored 13 points before leaving with 9:10 left in the second with what the Mavericks said was a sore right knee. Shawn Marion led the effort to replace him, scoring 20 points off the bench.
After the game, Nowitzki
thanked his fans on Twitter and wrote
, "I will be ok. Got an MRI [tomorrow morning]." Dallas's television play-by-play announcer
chimed in on Twitter
to say that the MRI is "precautionary" and that Mavericks coach Dwane Casey said the injury "doesn't sound serious" during his post-game remarks.
DallasNews.com reports
that Nowitzki was X-rayed in Oklahoma City and they showed "no structural damage" but that Nowitzki could miss some time.
Nowitzki thought maybe it was a strain to one of the muscles behind the knee. We've seen Nowitzki make remarkable recoveries from his many ankle twists and sprains. This is a little different with the knee. It wouldn't be surprising at all if he missed some time.
Nowitzki has played in all of Dallas's games so far this season and has missed just two games total since the start of the 2008-2009 season. With the win in Oklahoma City, the Mavericks improved to 24-5 on the season. They next play on Tuesday night at home against the Toronto
Raptors
.