Sacramento Kings guard Tyreke Evans is considering undergoing a foot procedure that could see him miss an extended period of time.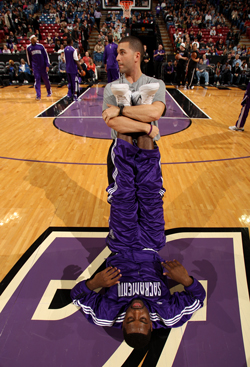 Posted by Ben Golliver.
The NBA's reigning Rookie of the Year, Sacramento Kings guard Tyreke Evans, has been hobbled by plantar fasciitis, a painful foot condition that caused him to
see a foot specialist
earlier this season,
undergo additional testing
, and
miss some time
.
CowBellKingdom.com reports
that Evans told reporters following Monday night's game between the Kings and the Los Angeles
Clippers
that he is considering a procedure on his ailing left foot that could sideline him for an extended period of time.
Kings guard Tyreke Evans let slip in his post game interview that he and his agent discussed a procedure today that would shelve last year's rookie of the year for 3-4 months. Evans did not give a specific name for the procedure but it would hopefully relieve the pain and discomfort of the plantar fasciitis in his left foot.
"I talked to my agent today and I was thinking about, maybe getting something done to it earlier, I would probably miss three months or something, I don't know."
Evans is waiting for his agent to get back to him with a possible timetable for the procedure but at this point, nothing seems definite.
NBA Fanhouse
reports on Twitter
that the procedure involves lasers!
Evans is considering a left foot procedure involving lasers to heal his plantar fasciitis. It would put him out 3-4 months. A source close to him says he had already decided to do procedure soon, but wonders if his 32-pt outing might cause him to rethink it. Plan B would be for Evans to do it near All-Star break. Plan C - which doesn't seem likely - would be for him to not do it at all.
The news is disappointing, but not unexpected for Kings fans, who have watched Evans take a step back in terms of his effectiveness and explosiveness this season because of the foot pain. The Kings are already lottery-bound, holding the league's worst record at 5-23, so there's very little sense in putting Evans out on the court if the pain in continuing.
Despite the pain, Evans went for 32 points, three rebounds and three assists in 40 minutes on Monday night. The Kings lost to the Clippers, 100-99. On the season, he is averaging 16.2 points, 5.2 assists and 4.8 rebounds per game.