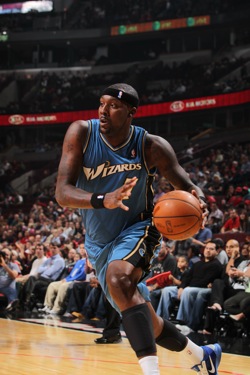 Posted by Royce Young
Over the past two seasons, the Washington D.C. has been ground zero for weird NBA stories. That whole
Gilbert Arenas
thing happened -- something the
Wizards
are still recovering from -- but most recently
JaVale McGee
and
Andray Blatche
tried to
punch each other's faces out in front of a night club.
The Wizards moved on from the Arenas incident recently by trading him. And the same fate may face either Blatche or McGee. Or maybe both.

According to HoopsWorld,
the Wizards are shopping McGee and Blatche to gauge how much interest there might be. This of course could be a result of the fight or it could just be something Ernie Grunfeld had planned on doing.
My guess is that it's all related. Under new owner Ted Leonsis, the Wizards have been completely committed to becoming more family-friendly and having a product on the court that the city can be proud of. I would assume that having two players that tried to rearrange each other's noses doesn't qualify there.
What's interesting is that the Wizards signed Blatche to a contract extension over the summer that runs through 2015. Obviously at the time, it seemed like the Wizards were entirely committed to Blatche as part of the future. But maybe not.
Then again, this might be a tactic by Leonsis and Grunfeld to try and get the attention of two of the entire league's biggest underachievers. Both Blatche and McGee have incredible talent. But neither have really been consistent. Blatche came into the season, well, fat and McGee just hasn't really developed his game outside of alley-oops, putbacks and trying to block every shot attempted ever.
I would assume that Grunfeld is going to find that not many folks are all that interested in trading much for either. Because of Blatche's extension, I doubt he'll garner much interest, but some enterprising general manager might be willing to take on McGee as a project. I remember before the 2009 draft there were a couple murmurs going around that Sam Presti was interested in McGee. A good system and a new culture could do wonders for a prospect like McGee.
More than likely, nothing comes of this rumor. By the deadline, I'd expect both McGee and Blatche to be in a Wizard uniform. But Grunfeld and Leonsis are focused on changing the Wizards' culture so any bad apples might be shown the door. Washington is in the middle of a complete flip and anyone not named
John Wall
is likely a candidate to be shipped off. Probably starting with the guys that try and beat up teammates.