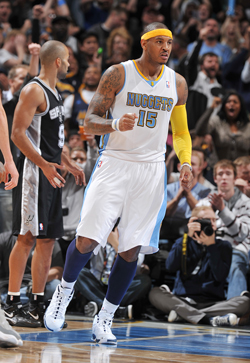 Posted by Royce Young
If the
Nuggets
were wondering what life without
Carmelo Anthony
would be like, they got a small preview over the past week. Anthony missed Denver's last four games because of a death in his family, but is set to rejoin the team Thursday and play in his first game Saturday against the
Kings
.
Without Carmelo, the Nuggets have gone 1-3, beating only Portland Tuesday at home. Denver has averaged 98.2 points per game without Melo, down from their season average of 106.5, which is third in the NBA. Scoring has come mainly from
Chauncey Billups
who has averaged 23.0 points a game in the last four outings.
In games against the
Spurs
,
Thunder
and
76ers
(the losses), Denver was clearly missing a go-to player to score in crunch time. The Nuggets didn't have that iso option that they love so much with Anthony and actually played considerably slower without him as well. The offense became more of a grind, with shots coming later in the 24 as Denver tried to pound Nene down low. But without the scoring option of Carmelo, Nene was routinely doubled.
But when Anthony returns Saturday, it'll be the first time the Nuggets will trot out their complete rotation this season.
Kenyon Martin
has returned to the lineup, Billups is back after a small stint on the bench because of a wrist injury and Carmelo will be back on the floor. Because of that,
a report from ESPN.com mentions
that the Nuggets are going to give the team a few weeks to see what happens before really amping up the trade discussions involving Anthony. Since the team hasn't been this healthy yet this year, the organization doesn't really know what it's product really looks like.
(Side note: Good decision for Carmelo to come back against the Kings Saturday at home rather than on the road against Minnesota. He'll get a great ovation from the home crowd, have some nice support with him after going through a tough week and be able to feel comfortable. Good move.)
Maybe the team plays extremely well and convinces the front office to hang on to Carmelo through the season in a last ditch effort to make some postseason noise. Maybe Carmelo feels that Denver's roster is good enough for him and wants to stay. Both those things are longshots, so it's still very likely Anthony is moved before the deadline. He wants out, despite what happens next for Denver.
Denver put an embargo on Carmelo trade discussions with him away from the team dealing with the family death -- a move that was very classy -- but will ceratinly crank up the chatter soon, especially if the team doesn't play that well when he returns. That three-year extension is still on the table, but Anthony isn't any closer to picking up a pen.
The Nuggets will have one more look at themselves sans Anthony Wednesday night against the
Timberwolves
. With the way the situation is looking, Denver better get a real good sense of the team without No. 15 on the floor because it's getting closer and closer to becoming a permanent thing.