The Minnesota Timberwolves are reportedly considering a push to trade for Memphis Grizzlies guard O.J. Mayo. Posted by Ben Golliver.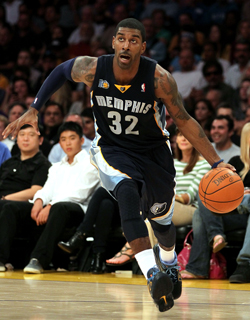 CBSSports.com's Ken Berger
reports
that the Minnesota Timberwolves are considering trading for Memphis Grizzlies guard O.J. Mayo.
CBSSports.com has learned that the Wolves plan to make a push to acquire Memphis guard O.J. Mayo, whose rights they traded to the Grizzlies on draft night in 2008 in the deal that brought Love to Minnesota. Mayo is frustrated coming off the bench in Memphis and "needs a change," according to one person familiar with the situation. The Wolves envision Mayo playing in the backcourt next season alongside Rubio, who according to a person familiar with the situation has given team officials his word that he will join the Wolves next season. The buyout that Minnesota must pay FC Barcelona is down to $1 million, but it's not clear how Rubio's decision could be affected by a lockout. Even if Rubio comes to Minnesota, there's no guarantee he'll thrive immediately.
On the night of the 2008 NBA Draft, the Timberwolves swapped Mayo, who they selected No. 3 overall, to the Memphis Grizzlies for power forward
Kevin Love
, the No. 5 overall selection as part of a
larger 8-player trade
. Mayo was one of the most highly-touted high school players of the past decade, but has so far failed to live up to those monstrous expectations as an NBA player. Still, he's a physical, skilled guard who is still on his rookie deal, an intriguing trade target because of his reasonable contract number ($4.5 million this season) and his ability to score and defend two positions in the backcourt. While Mayo started every game during his first two years in the NBA, he has been used off the bench by the Grizzlies this season. His minutes have taken a big hit -- down from 38 per game in his first two years to 28.8 per game this season -- and his numbers, as you might expect, have dropped across the board. He is averaging 13.1 points, 2.5 assists, 1.8 assists and shooting 42.1% from the field, off his career averages of 17.2 points, 3.6 rebounds, 2.9 assists and 44.4% shooting. To be frank, the Timberwolves need all the help they can get. At 8-24, they sit in last place in the Northwest Division, and own the second worst record in the Western Conference. They
rate
21st in offensive efficiency and 29th in defensive efficiency, and they have a gaping hole at two guard. Forward
Michael Beasley
has added a scoring punch since the Timberwolves traded for him this summer, but it hasn't been enough to compensate for the team's pathetic backcourt. Mayo would theoretically add a much-needed talent infusion over the team's only true off guard,
Wayne Ellington
. Minnesota doesn't have much talent or much hope this season, but they do have flexibility to take on salary at the deadline, an uncommon commodity in the NBA that has been exploited well by teams like the Oklahoma City
Thunder
in recent years. The Timberwolves are in the unique position of not having a single contract over $5 million on their books. (Indeed, the Timberwolves are the only team in the NBA
not to carry a single contract over $10 million this seaso
n, let alone $5 million.) And, since Minnesota is well under the cap, a trade for Mayo could happen in a variety of ways, including a trade that sends back only future draft considerations rather than a player (and his salary). The Timberwolves also have a glut on the wings, including
Corey Brewer
,
Martell Webster
and rookie
Wesley Johnson
, so if they do make a trade deadline deal(s) it wouldn't be surprising to see one of those guys moved. Here's more from Berger on
this week's CBSSports.com's NBA Drive
. "I'm told, very interestingly, that the Minnesota Timberwolves that have kind of been in stabilization mode in evaluating the roster are going to explore trading for O.J. Mayo," Berger says. "He's a player they drafted originally in 2008 and sent him to Memphis in the trade that sent Kevin Love to Minnesota. That's something they are going to explore. They are in a little bit of a process now evaluating their roster, but that's a move that they have in mind and that they are going to pursue."