Miami Heat forward LeBron James made comments concerning contraction and New Jersey Nets point guard Devin Harris, and Harris is reportedly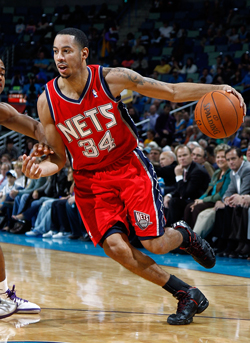 "offended." Posted by Ben Golliver.
Last week, Miami Heat forward LeBron James really stepped in it,
advocating for the contraction
of NBA teams to achieve a league that more closely resembled the NBA of the 1980s. Clearly,
he was misguided
. Shortly after making his comments, James
tried to back off
, but the damage was done. As you might recall, James singled out the Minnesota
Timberwolves
and New Jersey Nets in his comments, saying, "I'm just looking at some of the teams that are not that great. You take
Brook Lopez
or you take Devin Harris off teams that are not that good right now and add them to a team that could be really good. I'm not saying let's take New Jersey, let's take Minnesota out of the league. But hey, you guys are not stupid. I'm not stupid, but I know what would be great for the league." Harris, to no one's great surprise, wasn't particularly thrilled about the nature of the comments and the specific mention of the Nets and himself in James' argument for contracting the league. Indeed,
NJ.com reports
that Harris was "offended" by James' comments.
"For him to talk about us specifically was a little offensive,'' Harris said after practice, and before the Nets left for Oklahoma City for tonight's game against the Thunder. "I mean, from a business standpoint ... what's best, we're still trying to figure this out. But (James is) in the mind-set of, 'Let's just team everybody up with stars and kind of duke it out,' which, it kind of was like that in previous ages, but who's to say what's best for the league.''
Kudos to Harris for accomplishing a very rare feat in the NBA: standing up to LeBron James publicly. James' comments in general were ridiculous, and the fact that he included specific teams and players pushed them past the "reckless" threshold. Not that he cares. For more reaction to the idea of contraction from small-market teams, check out
Matt Moore's piece
with
Rudy Gay
and
Zach Randolph
of the Memphis
Grizzlies
.