Kevin Garnett suffers right leg injury against Pistons Wednesday night.

Posted by Matt Moore
UPDATE 10:10 p.m. EST:
Reports have surfaced
and
been confirmed
that the injury is a calf injury. If you're a
Celtics
fan, you'll take the calf injury over a knee injury any day, pending the MRI results.
UPDATE 9:16 p.m. EST:
A Celtics team spokesman confirms to Ken Berger of CBSSports.com that the injury is to KG's lower right leg,
not
his knee.
UPDATE:
KG is scheduled for an MRI Thursday, and players are indicating it may not be as bad as it looked according to Celtics' play-by-play announcer
on Twitter
.
UPDATE:
X-Rays are negative
on Kevin Garnett, meaning there's no fracture. He's still done for the night, but no fracture. MRI likely tomorrow.
In the first quarter of the Celtics' game in Detroit, Kevin Garnett tried to lift off on a dunk attempt, grimaced in pain and came down on his leg gingerly. He was in so much pain he was forced to leave the floor. He was in significant pain on the sideline and eventually left for the locker room. Shortly thereafter, the Celtics announced he would not return. A
wheelchair was requested
in the locker room, but Garnett was said to be moving on his own power. He is
currently headed for X-Rays
. The Celtics have termed it a "r
ight leg injury
."
Garnett has had multiple knee surgeries throughout his career and missed the remainder of the 2009 season with a knee injury which opened the door for the
Magic
to take the East. The Celtics have been nearly unstoppable before losing to the Magic on Christmas, and injury has seemed to be the only thing that could stop them in their rampage. An injury to Kevin Garnett would be, quite simply, devastating.
The following image shows Garnett upon landing, and is courtesy of ESPN Boston
on Twitter
.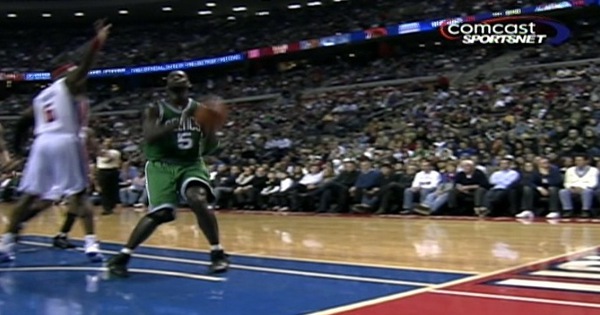 Here's video of the injury: