Los Angeles Lakers coach Phil Jackson is "not happy" that the NBA has taken over ownership of the New Orleans Hornets. Posted by Ben Golliver.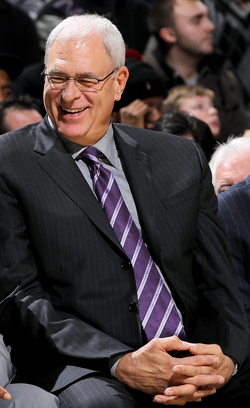 It's a two-man race to see who can be the biggest Grinch of 2010, and Los Angeles Lakers coach Phil Jackson and Miami
Heat
forward
LeBron James
continue to feverishly make their respective cases. First, Jackson said there
shouldn't be NBA games played on Christmas
. Shortly thereafter, James said there
shouldn't be NBA games played on Christmas
. Then, last week, James said the NBA
should contract some teams
, singling out the Minnesota
Timberwolves
and the New Jersey
Nets
, which led to national headlines galore. On Wednesday night, Jackson upped the ante,
the Associated Press reports
, saying that he is "not happy" with the NBA's
ownership takeover
of the struggling New Orleans Hornets.
Speaking before tip-off against the Hornets on Wednesday night, Jackson said the league's takeover of the Hornets raises questions about who has the final say if a star like Chris Paul demands a trade. Jackson says the NBA will have to find a way to make decisions about major roster moves that won't irritate anyone else in the league. Jackson also says New Orleans has not shown it can support an NBA team to this point and if that doesn't change in the near future, someone is going to have to move the club.
The Lakers were on a 3-game losing streak entering Wednesday night and this is possibly Jackson's final lap around the league, so there are legitimate reasons why he might be getting more candid in his recent remarks. But, just like James, Jackson
ventured into "reckless" territory
with these comments. The Hornets and their employees are Jackson's professional colleagues, and their success is now directly in the best interest of the NBA and all of its teams and employees. As the sale has already been approved, the water is under the bridge and criticism in hindsight is neither productive nor necessary. While Jackson isn't wrong to raise questions about competitive balance given the unprecedented nature of a league-owned team, a head coach isn't telling the league office and its 30 ownership groups anything they don't already know. They've discussed it, they've voted on it and they've approved it. That's that. As for the possible relocation of the Hornets, that's a topic that has been discussed ad nauseam, and Jackson adds nothing by raising the issue himself. Given his influential stature, he may even undercut local efforts that are currently underway to help keep the team in Louisiana. If Jackson was a member of the media, this wouldn't be a big deal. But he's doing no favors for guys like Hornets coach Monty Williams and Hornets GM Dell Demps, who could certainly use some help from an important colleague rather than another (loud and important) doomsday-predicting voice. Put it all together and all we're left with, as we often are with Jackson, is pointless, mean-spirited griping. Please,
Kobe Bryant
, start making some shots so that maybe Jackson's mood will turn.