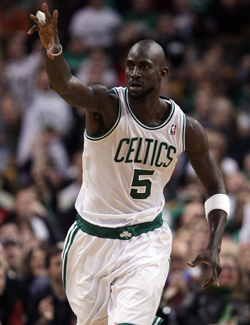 Injury initially diagnosed as a calf injury, not deemed serious by Doc Rivers.
Posted by Matt Moore
Sources tell CBSSports.com's Ken Berger that initial exams of
Kevin Garnett
's injury in the first quarter of the
Celtics
' game loss to the
Pistons
Wednesday night indicated a pulled calf muscle. The injury was later termed a "muscle injury to the outside of his right leg, below the knee and above the ankle." The extent of the injury will be revealed in an MRI scheduled for Thursday. Post-game, Doc Rivers did not think the injury was serious, while obviously saying they'll have to see with the MRI.
Without Garnett, the Celtics' change on both sides of the ball is incredible. The odds of Garnett missing some time are good, but a calf injury means the duration will likely be considerably less than it would have been had it been a knee injury. The Celtics play the
Hornets
,
Raptors
, and
Timberwolves
in their next three before a big game against San Antonio next Wednesday. Then it's another tilt against the Raptors before a big game in Chicago. A worst case scenario for KG could have him out for several weeks, which would mean being without him for games against Orlando, Utah, Portland, and conceivably a January 30th game against the
Lakers
. In short: January's not the worst month for KG to miss time, but it's not ideal, either.
Still, the Celtics have a game and a half lead over Miami for the top of the Eastern Conference, and have never been concerned with home court advantage in the playoffs. They can afford to miss KG for a while if it means he's ready for the playoffs. The important thing is making sure that Garnett doesn't suffer a recurring injury like can sometimes occur with a calf injury. They have to get him 100% healthy and back for the playoffs. In the meantime, they'll likely get
Kendrick Perkins
back from injury along with
Rajon Rondo
. That will likely be enough to keep them above water in time to push into the playoffs at full strength.
Barring a surprising and devastating MRI results package on Thursday, Celtics fans can breathe a little easier.