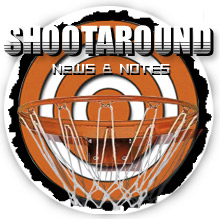 Posted by Royce Young
Tom Ziller of Sactown Royalty on Tyreke's halfcourt winner: "This game deserves fuller analysis than the hot mess of exclamation marks and OMGs I can produce tonight. This play was only the final of Evans' incredible heroics, as the guard came up with two steals and, including the winner, seven points in final two minutes. Cousins was also fantastic, finishing with 20 points and 16 rebounds to help the Kings keep pace with a Memphis team leaning on 35 points from Zach Randolph. A personal MVP is Donte Greene, who as you can see knew the shot was going in as soon as Tyreke let it fly."
Jason Jones of The Sacramento Bee: "It's not uncommon for a few of the Kings to take turns attempting halfcourt shots after practice with nothing more than pride or perhaps a few dollars on the line. Rarely, if ever, is that halfcourt practice expected to come in handy in a game. The Kings learned Wednesday night that practice -- even practicing the unlikely -- can pay off in a game that counts. Tyreke Evans made a shot from beyond halfcourt -- about 50 feet from the hoop -- to give the Kings a 100-98 win at the buzzer over the Memphis Grizzlies at Arco Arena. Evans jumped onto the scorers' table to celebrate. Kings co-owner Gavin Maloof knelt behind officials reviewing the play and celebrated when the shot was confirmed to have beaten the buzzer. 'I've won a couple dollars off that shot,' Evans said. 'We practice it after shootaround in the morning sometimes and I'm glad we do that.' "
Marcin Gortat isn't loving Phoenix's defense: "I just think we have to be at the gym every day for three hours," Gortat continued. "Learn the rotations, learn everything from the beginning. I mean, there are so many things we're doing bad, I just can't find an explanation. I'm trying to get some rebounds and stops, but unfortunately there's not too many opportunities for me to rebound because the team is scoring 120-something points. "It's just frustrating; frustrating as hell. I'm not going to lie."
Gary Washburn of The Boston Globe on KG's injury: "As Kevin Garnett screamed in frustration, limping on the leg that he has so feverishly tried to revive over the past 18 months, the pain in his voice, the sweat mixed with tears, should have been a message to those healthy big men who have spent this season on the inactive list. Jermaine O'Neal and Shaquille O'Neal will have to compensate for Garnett, who sustained a muscle injury near the right calf and will undergo an MRI today in Boston. While coach Doc Rivers said he is 'not that concerned,' the injury could cost Garnett a few games, or even a few weeks, given the cautious nature of the organization regarding injuries."
Kate Fagen of The Philadelphia Inquirer says things are good in Philly right now: "The 76ers' locker room hasn't been this happy in years. After Wednesday night's 123-110 run-and-gun win over the Phoenix Suns, there was laughter, jokes, and even a visit from musician John Mayer and actor B.J. Novak of NBC's The Office . Wednesday's win was about as unexpected as they come - not necessarily the victory itself, but the way the Sixers pulled it off. They outscored the scoring-happy Suns. Who'd have figured that? The Sixers, without Andre Iguodala, improved to 13-19. The Suns, led by Steve Nash with 23 points and 15 assists, dropped to 13-17."
It's not looking like the Bobcats will be changing their name, says Rick Bonnell of The Charlotte Observer: "As much as some of you would prefer a name change from the Bobcats, that isn't a widespread concern, based on the team's recent market research. Pete Guelli, who heads the Bobcats' marketing, told me the team's recent market study showed no groundswell for a name change."