The son of former NBA player Nick Van Exel reportedly confessed to committing a murder in Texas.
Posted by Ben Golliver.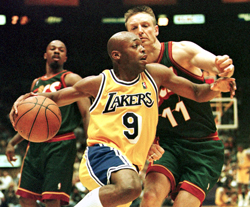 WFAA.com out of Dallas
is reporting that the son of former NBA All-Star Nick Van Exel has confessed to murdering his neighbor in Texas on Wednesday night.
Nickey Van Exel, son of former Dallas Mavericks player Nick Van Exel, was arrested Wednesday night in connection with a recent murder.
Bradley Bassey Eyo was found shot to death near Lake Ray Hubbard the day after Christmas. Investigators determined he was murdered at a Garland home in the 6900 block of George Brown Drive and his body later dumped at the lake, less than a mile away.
Police said 20-year-old Nickey Van Exel turned himself in Wednesday and confessed to the crime. He's a neighbor of the victim.
WFAA.com also reports that Nickey Van Exel is being held on a $1 million bond. The elder Van Exel, who is just 39 years old, retired after the 2005-2006 NBA season after playing 13 seasons in the NBA. He spent his early years with the Los Angeles
Lakers
before bouncing around the Western Conference, making stops with the Denver
Nuggets
, Dallas Mavericks, Golden State
Warriors
, Portland
Trail Blazers
and San Antonio
Spurs
. He averaged 14.4 points and 6.6 assists for his career and made an All-Star game in 1998. Known for his explosive scoring ability and quickness off the dribble as a player, Van Exel
joined the Atlanta
Hawks
coaching staff as Player Development Instructor this fall.