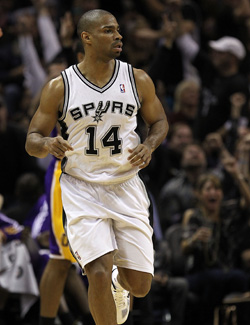 Undrafted first-year player lighting it up for Spurs as they take down Dirk-less Mavericks.
Posted by Matt Moore
When I tried talking to then-Spurs-assistant-GM, now-Hornets-GM Dell Demps in Summer League about the sharp shooting perimeter speedster on the Spurs' SL squad,
Gary Neal
, he got a grin on his face. The kind of look the fox gets when he hears the farmer as he reaches the henhouse while the fox is safely in the woods. Neal lit up Vegas, but like so many players, no one thought much of it. After all, that was summer league. How good can a guy who was undrafted and spent two years in Europe, really be?
Turns out pretty good. Neal
was instrumental
in the Spurs' win over the Dirk-less Mavericks Thursday night. Neal hit five of his eight three point attempts on his way to 21 points. It was the same kind of performance who caught scouts' eyes at Summer League and the kind of performance that
Tim Duncan
(courtesy of the
San Antonio Express
) says has "taken" his teammates' respect:
Duncan on Gary Neal, who now has three 20-point games in six: "He hasn't earned our respect, he's taken it. He's a stone-cold shooter."
via
Twitter / Jeff McDonald: Duncan on Gary Neal, who n ...
.
Stone-cold, indeed. Neal is averaging
16 points per 36 minutes
and shooting 38% from the arc. He's been the kind of player the Spurs always seem to find, who come in, fill their role, play within themselves, and produce. Neal's perimeter speed was on display in Vegas, as he jetted off curl screens to find his way to open shots. Neal also possesses that ability to make the little plays, as he did in the fourth quarter on a broken play, catching a desperation kick-out with time running down and calmly nailing a dagger.
Neal before Zod
. That he's doing it with so little experience only exaggerates the legend.
Neal split his college time between La Salle and Towson, before winding up in Europe. Now he's downing the Mavericks with ridiculous shooting and fitting in on Pop's team. If there's a guy more fun to root for in the NBA right now, it's hard to see. Neal's no feel-good case, he's a legit assassin, as Timmy pointed out, and the kind of player that the Spurs have used to win championships. Yet another chamber loaded for the Spurs.