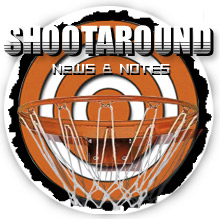 J.J. wants in for 3, O.J. is off the table, and the Dream has his own clothing line. All this and more in today's Shootaround.
Posted by Matt Moore
The
Thunder
re-assigned
Cole Aldrich
to the D-League Tulsa 66ers. Hope he wasn't getting used to those nice charter flights.
J.J. Redick
wants a shot... (get it? A shot?)
at the three-point contest
. I'll show myself out.
Stan Van Gundy
thinks the referees are targeting
Dwight Howard
. Maybe he wouldn't be so easy to lock onto if he wasn't waving his hands and yelling all the time. But hey, just a thought.
Hakeem Olajuwon now
has his own clothing line.
Rumor has it that Dwight Howard is trying to model for it,but he keeps putting the clothes on just a little bit off and looks awkward in them.
Four development teams submitted proposals for a new Sacramento arena. If none of these work, things in Sacramento as fas as the NBA is concerned are going to get dicey.
O.J. Mayo
is
reportedly off the market
in Memphis. But with
Zach Randolph
,
Marc Gasol
, and Mayo all due extensions in the next 18 months, something will likely have to give, and Mayo's the most likely transient. For now, at least, the
Grizzlies
are committed to what they've said is their plan, to keep the starting five together.
You think Dwight Howard racks up a lot of technicals? Rasheed Wallace
dwarfed him in comparison
.
The best basketball documentaries,
in power ranking form
.
Tom Ziller of SBNation.com
incinerates the contraction suggestion
, as it should be.
Dwight Howard is
having his techs judged
by
Gilbert Arenas
, and should he find them "dumb", Howard has to pay the team $200.