Orlando Magic center Dwight Howard's New Year's resolution is to receive less technical fouls. Posted by Ben Golliver.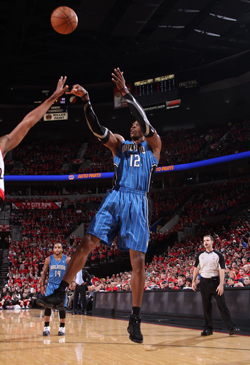 Orlando Magic center Dwight Howard has
played like an MVP candidate
and is currently
leading the Eastern Conference in All-Star voting
. Pretty good year, right? One pesky problem for Orlando's big man: technical fouls.
The Orlando Sentinel reports
that Howard has received 12 technical fouls in 33 games so far this season and is headed for a suspension soon should that pace continue. Howard said on Friday night that his New Year's resolution for 2011 was to remain calmer in the face of bad calls by the officials.
"I guess not to get any more technical fouls," Howard said. "That's my basketball New Year's resolution: to control my temper."
Howard is often miffed when he receives a technical, opening both of his hands up, palms to the sky, with an incredulous look on his face. That kind of thing doesn't play anymore now that the league has tightened up its technical foul rules.
He went on to joke that he was going to take on some Dennis Rodman tendencies.
"Since I'm a bad boy now, I guess, the new bad boy, I'm gonna dye my hair blue and white and put 'Bad Boy No. 12,' " Howard said. "I think that'll be hot."
That Howard is such a thoughtful, well-spoken player off the court and that he gets to the free throw line so often himself combine to make the technical foul issue even more vexing. He's clearly extremely intelligent and he also gets a lot of calls, so he should understand better than almost anyone how NBA officiating works (and doesn't work).
He's shown the ability this season to expand his offseason game, adding a variety of spins and hook shots to his arsenal. Here's hoping that that development continues in 2011, and Howard learns to display a greater level of emotional self-control. The Magic, obviously, need him every night.