LeBron James says he does not expect that he or Dwyane Wade will win the NBA MVP award this season. Posted by Ben Golliver.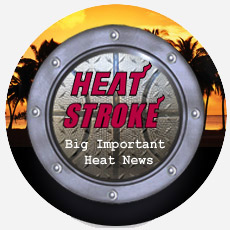 Miami
Heat
foward LeBron James surely understood that a price would have to be paid for his decision to forsake being a franchise player on a championship contender in Cleveland to become one of 2.5 franchise players on the Miami Heat.
James has already paid a huge public relations toll since "The Decision," but he noted on Saturday that he understands that he compromised his ability to take home hardware as well.
The Sun-Sentinel reports
that James acknowledged that both he and teammate Dwyane Wade will not win the NBA MVP award this season. "When we decided to come together, our MVP chances went out the window," James told reporters.
James is the 2-time defending NBA MVP, while Wade has never won the award, although he was named NBA Finals MVP when the Heat won the title in 2006.
ESPN.com adds
that James said he believes the MVP award is for individual performance.
"I think they classify it as an individual award. They look at it like the less help you have, the more numbers you have then the better chance for you to win that award."
"I don't know how you classify the MVP thing," James said. "Do you classify it as most valuable to his team, if you take that person off his team how do they play? Or is it how is he playing numbers wise? I don't know."
James is correct: neither he nor Wade will be a finalist for the MVP award this season, and the fact that he understands this and seems to accept it is a refreshingly honest and self-aware turn.
Remembering back a decade, though, the presence of a fellow superstar didn't stop
Shaquille O'Neal
from winning the 2000 MVP, and it also didn't stop Karl Malone from winning the 1999 MVP, Michael Jordan from winning five MVP awards and
Magic
Johnson from winning three MVP awards. History has proven that superstar-laden teams can be led by an MVP.
But the nature of "The Decision" and the way it was handled have poisoned James' and Wade's chances, at least in the short term. Is it impossible to imagine James or Wade winning an MVP two or three years from now, should the Heat win a title or two? Not at all.