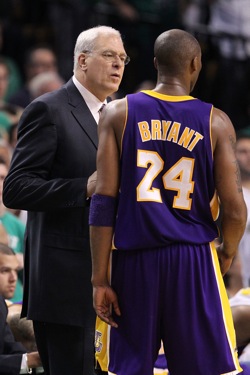 Posted by Royce Young
It's been an odd up and down season for the
Lakers
this year. They started 8-0, looked rightfully invincible and that was before all their pieces were together. Then came some rough patches. Four straight losses. Then three by double-digits. And after a 19-point loss to the
Grizzlies
Sunday,
some passive-aggressiveness started coming out
between
Kobe Bryant
and Phil Jackson.
Jackson said: "We get behind early on in the third quarter on some stupid plays -- poor passing, poor transition defense -- and then Kobe has to screw up the game and start energizing the team by going one-on-one and that takes the rest of the guys out as a consequence. That didn't bring us back in, but it did give us a little run, we got the game back a little bit but we couldn't sustain it and we just went right back and made the same mistakes again."
Let's analyze that quote. Honestly, it's not as bad as it sounds. Phil isn't saying Kobe did screw up the game, he's just making the point that because of the team falling behind, Kobe
had
to try and bring the team back in it and try and energize them. But then again, that's classic Phil Jackson. He says something that sounds bad, but really isn't, but has a point hidden underneath it. Deep, man.
Kobe's side of it: "We've had days off and blown teams out, so I'm not buying any of that Zen (B.S.). I think we're looking too far down the road instead of looking just at the game that's right in front of you. You start skipping steps if you look too far down the line."
Kobe was referencing how Jackson have the team New Year's Day off from practice. And obviously nudging his coach a bit in the process.
When a team like the Lakers start losing, this sort of thing happens. They're too good to be losing like this and they know it. So obviously something has to be screwed up. Whether that's the players, the coaching or just everything in general, the team knows this shouldn't be happening. As a result, fingers get pointed.
It's not like Kobe and Phil don't like each other and are having some meltdown. They've had differences but that's natural. With Kobe's competitiveness and Phil's mind games, this sort of stuff happens. It's part of a season. It doesn't mean they're the bestest of friends right now, but it's not something to freak about. The goal here is to win games and right now, they aren't doing a great job of it.
All of it will surely get sorted out and the Lakers will start winning and looking really good soon enough. Whether that's in two weeks or in March, it's going to happen. But the longer this goes on, the worse things will appear. Kobe will have a game where he shoots it 34 times and Phil will point that out which will make Kobe not shoot for an entire first half or something the next time. It's all drama in L.A., all the time.
But really, it's about the slip in defense for the Lakers. They're allowing teams to a higher field goal percentage and overall have dipped quite a bit stopping the ball. With bad defense comes bad offense because you're trying to work your way back into a game. That's kind of Phil's point. But it doesn't sound like Kobe wants to hear it.