Miami Heat forward LeBron James celebrated his 26th birthday with a ridiculous cake. Posted by Ben Golliver.
Critics have called Miami Heat forward LeBron James a selfish, oversized child, so it only makes sense that his 26th birthday party, which drew the likes of filmmaker Spike Lee and rapper Drake, came complete with a ridiculously oversized and self-reverential birthday cake, as noted in
this morning's Shootaround
.
Here's a look at the King-themed red, gold and white cake, which appears to be at least five layers, courtesy of
James' Twitter feed
.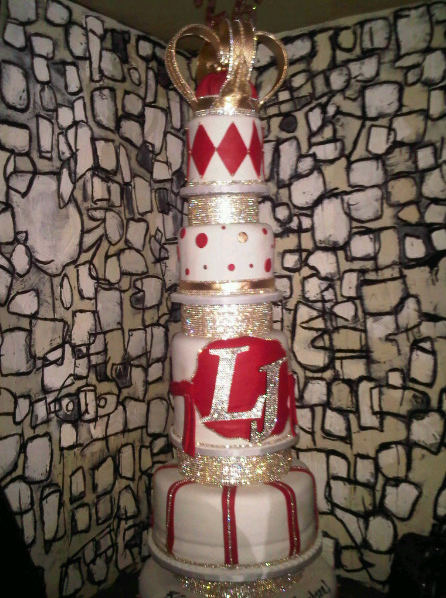 The cake sports "LJ," James' initials, and is topped with a crown to complete the "King" theme that seems to follow James everywhere he goes.
The cake was part of the party that was
hyped up
by a slideshow presentation that promised "a royal themed [party] fitting for a birthday celebration of a king, channeling an ambiance of extravagant court life" that would draw an "A-List crowd of multicultural, savvy trendsetters, and jetsetters that reinvent and set the tone for a chic lifestyle."
Despite, or perhaps because of, the absurd cake, it sounds like James enjoyed himself. "Wanna thank all my family, friends and fans for the B-day S/O's today,"
James tweeted
. "Love all u guys. Its gonna be another great year! Yes Sir!"
Hopefully, 2011 is a Decision-free year for all.