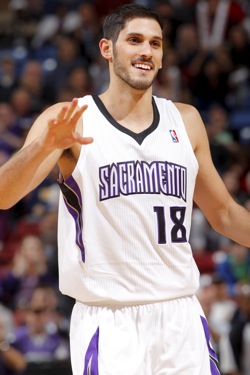 Posted by Royce Young
The
Kings
appear on the verge of turning things over. While Paul Westphal and Geoff Petrie might be safe -- for now -- some changes look like they're coming.
According to ESPN.com,
the Sacramento is openly shopping guard
Omri Casspi
and is likely looking to move forward
Carl Landry
as well.
Reportedly the teams that have raised their hands in regards to Casspi are the
Bulls
and the
Knicks
.
Chicago, who missed out on
J.J. Redick
this summer when Orlando matched on his restricted contract, has been intent on adding another shooter to the rotation.
Kyle Korver
obviously is a marksman, but he's a one-dimensional marksman. Casspi, the Bulls believe, can be more of a well-rounded player that can defend, shoot and even create a little.
The Knicks, who couldn't seem to get
Rudy Fernandez
over the summer, would like Casspi for the same reasons. Good shooter, good scorer and a lengthy versatile defender. Honestly, the Knicks have a higher need, but because of the ever-complicated
Carmelo Anthony
situation, might balk at giving up any assets to seal the deal.
As mentioned in the original report, there are hurdles to jump for any potential suitors though. The Maloof brothers love Casspi not just as a player but as a diplomat. Having Casspi, the first Israeli-born player ever in the NBA, broadens your fanbase immediately. That's a nice perk on top of having a nice player. The Kings would likely attach a long-term contract to any deal involving Casspi who's earning a slim $1.25 million this year. Naturally that could dismiss the Bulls and Knicks who likely want to hold on to cap space like grim death.
On the other front, Carl Landry is reportedly "highly unlikely" to re-sign with the Kings, meaning Sacramento will probably ramp up efforts to move the forward. He has value out on the market right now and the Kings don't want to come out empty-handed on the trade that moved
Kevin Martin
out of town.
Landry is earning just $3 million on an expiring deal so a contender could be extremely interested in swooping his services up for a little run. (One team that comes to mind for me is the
Thunder
. They need an extra inside presence and have the assets to swing such a deal.) The Kings though aren't going to ask for pennies. They'll want real assets or picks for Landry, which is a lot to pay if it's just two months of renting him.
Sacramento is ready to start moving parts around. The current roster just doesn't seem to be headed in the direction the organization wants and while certain parts like
DeMarcus Cousins
and
Tyreke Evans
are off limits, others like Landry, Casspi,
Francisco Garcia
and even
Jason Thompson
might be for sale.