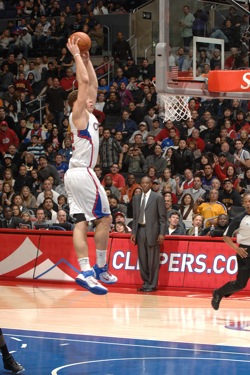 Posted by Royce Young
Another month, another batch of jaw-dropping highlights courtesy of
Blake Griffin
. So let's look back at his five best from December.
5. From 45 feet away...
I don't know what the
Clippers
plan on doing with
Baron Davis
, but there is one advantage to keeping him -- he throws a lovely alley-oop. Consider this 45-foot beauty that I'm not even sure Peyton Manning could put on the money like that.
A play like this kind of makes you wonder what Griffin would look like in pads though. It would be like a cross of Antonio Gates and DeMarcus Ware I think. Or it would just look like Blake Griffin in football pads. I think that's a little easier to picture.
4. A layup better than a dunk
The only thing that's Blake Griffin can do that we haven't already seen is to start upping the degree of difficulty. And that's what he did with a simple layup. Forget just jumping over people and dunking. Let's turn a simple layup into a spectacular, highlight worthy play.
That's the thing about Griffin. Even the routine play is so far from routine. Everything is flashy. Everything is exciting. I don't know if it's the way he plays or if it's just watching a man his size do what he does, but no matter what Griffin does, it looks special.
3. One hand, with emphasis
Heavens. Look at how he reaches back. The first thing I wonder is how in the heck he even caught the thing. That's some serious hand-eye coordination. Then there's the jumping. And then the power to finish it off. Heavens.
2. A little closer than 45 feet, but a little better
What makes one halfcourt alley-oop better than another? In this case it's the punctuation on the end of it. Any time you get a long pass finished off by Blake Griffin soaring through the air it's going to be good, but add in a little hanging and swinging on the rim like a little kid on a jungle gym? Well, you've got something special now.
What I love most is the vision from Davis though. Nothing is really there at first glance, but Griffin is weaving through defenders, makes eye contact with Baron and boom, the ball is in the air and Griffin is tracking it down for a stuff. It's a beautiful thing, really.
(Also, I really enjoy Ralph Lawler's almost-signature call of Griffin dunks now.
Slaaaam dunk! Oh ME oh MY!
1. Face dunk
At some point, and I think everyone will agree with me here, Blake Griffin will kill himself dunking. It almost happened here against the
Rockets
where he nearly plowed his face straight into the rim. (If that would've happened and this were the NFL, I think the rim would've been fined $25,000. Amirite?)
But just look at Griffin's elevation. He jumped too early so when the ball got to his hand, he was too high. He didn't so much finish the dunk as he just tried to dunk and get out of the way. For a second there I thought Griffin was going to dunk himself. Maybe that should be his finisher in the dunk contest if he enters. He dunks the ball and just follows straight through the rim, dunking himself. That would be something we haven't seen.