New York Knicks forward Danilo Gallinari is out 2-3 weeks with what the team calls a "mild knee sprain." Posted by Ben Golliver.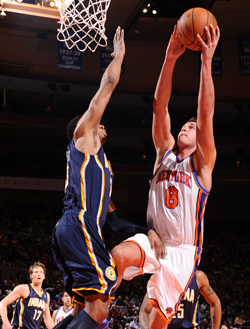 On Sunday,
CBSSports.com's Ken Berger reported
that New York Knicks forward Danilo Gallinari "crumpled to the floor" after suffering a left knee injury during the fourth quarter of a 98-92 home win over the Indiana
Pacers
. Shortly after the game, Berger wrote that Gallinari said the injury was "nothing to worry about."
An MRI conducted on Monday confirmed that Gallinari avoided any serious knee trouble, but the test did reveal what the team called a "mild knee sprain." Gallinari is expected to miss 2-3 weeks.
At 19-14, the Knicks have
arguably exceeded expectations
more than any other NBA team so far this season, and Gallinari, a 22 year-old Italian forward, has been an important piece. Gallinari had started every game so far this season, and was averaging 15.3 points, 4.5 rebounds and 1.9 assists in 34.7 minutes. He was also getting to the free throw line more frequently than any Knick not named
Amar'e Stoudemire
and was shooting 37% from deep, while leading the team in three-point attempts.
The
New York Times
reports that big man
Ronny Turiaf
will
likely start in Gallinari's place
, moving
Wilson Chandler
to the small forward position. Turiaf, a low-post bruiser and hustle player, brings a distinctly different style of play than Gallinari. He has started six games this season and is averaging 4.1 points and 2.9 rebounds in 18.5 minutes per game.
PostingAndToasting.com also writes
that Knicks coach Mike D'Antoni may decide to fill Gallinari's missing minutes by increasing playing time for
Shawne Williams
and
Bill Walker
, rather than turning to seldom-used forward
Anthony Randolph
, who has languished on the bench since being acquired via trade last summer.