Kendrick Perkins pretty much guarantees a Boston Celtics title, Michael Jordan visits David Letterman almost 20 years ago, Kevin Love sets some more rebounding records, Allen Iverson has his paper straight and Delonte West will remain on the shelf for longer than he had hoped. Posted by Ben Golliver.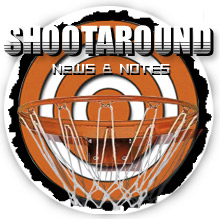 Celtics center Kendrick Perkins tells Yahoo! Sports that Boston would have beaten the Los Angeles Lakers in last year's NBA Finals had he not injured his knee. He also says no one can touch the Celtics in a series this year. "In seven games I don't think we can be beat by any team," he said. "Too deep. Too much experience. Too many hard-working guys. Too many guys that have a chip on their shoulder."
Washington Wizards forward Andray Blatche, who was involved in a nightclub fight with teammate JaVale McGee in December that led to some talk of him being traded, admitted to the Washington Post that the rumors are affecting his play. "That bothers me some," Blatche said. "But that's the name of the game. I just gotta keep trucking along with it."
Boston Celtics guard Delonte West was super ambitious in his hope to return to the court quickly after injuring his wrist earlier this season, but Celtics President Danny Ainge says West's return isn't expected until near the All-Star break in February, according to ESPNBoston.com.
Kevin Pelton of Basketball Prospectus with an interesting note: "History suggests that the best teams should have already separated themselves from the pack. Over the six seasons since the NBA realigned for the 2004-05 campaign, 83.3 percent of the teams that led their division as of New Year's Day have gone on to win at least a share of the division title. Via Basketball-Reference.com, all six eventual division champions were on top on Jan. 1, 2010."