Dallas Mavericks forward Dirk Nowitzi has been ruled out for Tuesday night's game against the Portland Trail Blazers. Posted by Ben Golliver.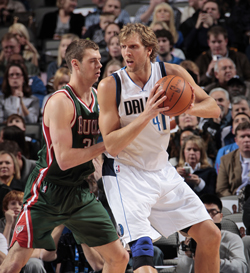 Dallas Mavericks forward and MVP candidate
Dirk Nowitzki
will miss Tuesday night's game against the Portland Trail Blazers, his fifth consecutive game, due a sprained right knee,
the team announced on Tuesday
.
Nowitzki, arguably the league's most durable superstar over the last decade, suffered the knee sprain during a Dec. 27 win over the Oklahoma City
Thunder
. 27. The next day, Nowitzki
underwent an MRI
that diagnosed the sprain but did not reveal any additional damage. The German forward had hoped to return this week, but was declared out Tuesday morning following the team's shootaround.
Mavericks coach Rick Carlisle told the media on Tuesday that there was "no update" on Nowitzki's health,
according to ESPNDallas.com
.
"No update on Dirk," Carlisle said. "When Dirk's ready to play, we'll let everybody know when he's ready to play. In the meantime, he's making gradual process, but that's going to be it. We're not going to have a daily Dirk update, Dirk watch."
Mavericks forward
Caron Butler
will also be out tonight, after
suffering a significant knee injury
on Saturday. Butler (23 points) and Nowitzki (21 points) combined for 44 points in an
entertaining Dec. 15 win
over the Portland Trail Blazers. Nowitzki was key down the stretch, pouring in multiple fourth-quarter baskets to ensure the Mavericks' 103-98 victory.
Portland Trail Blazers power forward
LaMarcus Aldridge
had a big night against the Mavericks, finishing with 35 points and 10 rebounds, and will look to go off again in Nowitzki's absence.
Dallas has been forced to juggle lineups in recent games, giving starts to reserve big man
Brian Cardinal
and reserve forward
DeShawn Stevenson
, and by leaning a bit more heavily on forward
Shawn Marion
and center
Tyson Chandler
.
Meanwhile, in another good piece of injury news for Portland, reserve center
Joel Przybilla
, who has missed two weeks with a sprained ankle, will be available for tonight's game,
according to the team's Twitter account
.
Nowitzki is averaging 24.1 points, 7.4 rebounds, and 2.4 assists per game this season.