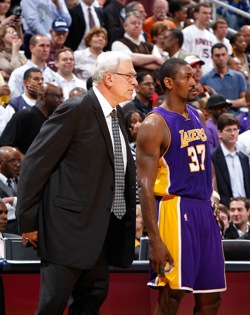 Posted by Royce Young
When the
Lakers
lose, things start getting snippy. And weird.
First was the apparent skirmish with words between
Kobe Bryant
and Phil Jackson through a couple odd quotes. Now, it's a small dust-up between Jackson and
Ron Artest
.
Via Yahoo! Sports:
At a recent practice, league sources said, Artest loudly confronted Jackson. As he tried to fit into the defending champions a season ago and earn his way, Artest grudgingly went along with Jackson's public floggings. This season, Artest has less tolerance for it. Essentially, Artest told Jackson that if he wants to coach him, coach him. Just stop embarrassing him in public.

Jackson acknowledged the confrontation but said using the word "loudly" was inaccurate, instead saying it was "direct." He also added that his relationship with Artest is completely fine.
Jackson addressed the situation Tuesday:
"It was not a loud confrontation it was a man-to-man confrontation. It was obviously out of character for that to happen at practice and for Ron. And it was not about embarrassing him in public, it was about some of the issues that have been brought up that were focused about him.

It's nothing more than what could normally happen in a practice. And obviously there is a spy or a cam or a leak or something that went on in our practice, but those are the things that happen in practice. It was not the first time and it's not going to be the last.

Ron came in and apologized not only to me but in front of the team for what he said was a distraction at practice. That was his own desire to do that, I didn't even solicit it from him."

Again, when a team that's used to lots and lots of success starts losing, things get chippy. Tension rises. Small quibbles between players or coaches seem to rise to the surface. Winning makes everyone feel appreciated.
After the Lakers rip off five or six straight everyone will be best friends again. But right now, fingers are being pointed, criticism is going public and the Lakers look like they're near a blow-up. Sometimes though, this sort of thing is good for a team to go through. Especially one that has two straight titles in their back pocket. Sometimes a little kick in the pants is needed to get everyone going.
Between Kobe and Phil's jabs,
the iPhone malfunction,
Kobe's public frustration and now this, something has got to give in L.A. And if we've learned anything about the will and mettle of the Lakers, it will.