CBSSports.com is reporting that a fight between Memphis Grizzlies teammates O.J. Mayo and Tony Allen on the team's plane left Mayo with a "swollen" face. Posted by Ben Golliver.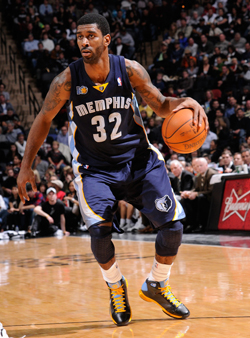 CBSSports.com's Gary Parrish and Ken Berger are reporting
that Memphis Grizzlies teammates O.J. Mayo and Tony Allen got into a "fight" on the team's plane after the Grizzlies defeated the
Lakers
in Los Angeles on Sunday night, and that the altercation left Mayo with a "swollen" face.
Grizzlies teammates O.J. Mayo and Tony Allen were involved in a fight with each other that stemmed from a gambling dispute during a card game on the flight home from Los Angeles after Sunday night's win over the Lakers, three different sources have told CBSSports.com.
Two of those sources said the altercation left Mayo with a noticeably "swollen" face.
Mayo did not play in Memphis' Tuesday night game game against the Oklahoma City
Thunder
, which the Grizzlies won 110-105. The team reported that Mayo had "bronchitis."
CBSSports.com obtained the following statement from the Grizzlies, confirming that a "brief altercation" took place.
"On the team's charter flight home to Memphis on Monday, Jan. 3 -- one day after the Grizzlies'' 104-85 victory at the Los Angeles Lakers -- there was a brief altercation between Tony Allen and O.J. Mayo. The club considers the matter closed and will not comment further."
Team planes are starting to become a dangerous place, as a disagreement over an airborne card game triggered a series of arguments and pranks between Washington
Wizards
teammates
Gilbert Arenas
and Javaris Crittenton that ended with Arenas bringing guns to the team's locker room at the Verizon Center in December 2009.
Also on Tuesday night, Yahoo! Sports
reported
that the Mayo/Allen disagreement stemmed from the very same card game as the Wizards, in a replay of last season's disaster.
Mayo owed Allen money from a card game, "Boo-Ray," and sources said Mayo became increasingly belligerent and antagonistic toward Allen when asked to settle the debt. Sources said Allen walked away from Mayo to go the restroom and returned to find Mayo continuing to berate him. Eventually, Mayo inched close to Allen, and sources said Allen hit Mayo.
Mayo was the subject of
trade rumors in late December
. That chatter is sure to pick up.