It's no guarantee that Kobe Bryant will match or pass Michael Jordan's six rings, but he should pass Jordan on the NBA's all-time scoring chart with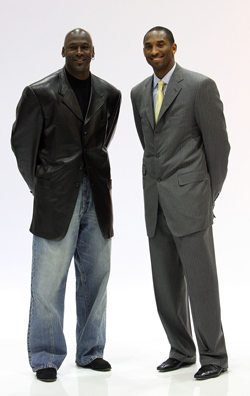 relative ease.
Posted by Ben Golliver.
Even at 32 years old, Los Angeles Lakers guard Kobe Bryant has plenty of NBA miles ahead of him. This week, he moved into the top 10 on the NBA's all-time scoring chart, and if he continues scoring at his current rate through the rest of the season, barring injury, he will move into the No. 6 position on the list, passing Hall of Famers Moses Malone, Elvin Hayes, Hakeem Olajuwon and Oscar Robertson in the process.
But Bryant surely won't be content with sixth place. Just like he is chasing Michael Jordan's six NBA titles, he's also in hot pursuit of Jordan's NBA career scoring tally, which at 32,292 points puts MJ in third place all-time, trailing only Kareem Abdul-Jabbar (38,387) and Karl Malone (36,928).
So what does Kobe need to do to pass Jordan? Let's take a look.
Since turning 30, Bryant has fallen off his career-high scoring numbers posted in his late-twenties, but he's still scoring at an exceptional rate. Over the last 2.5 seasons, Bryant is averaging 26.6 points per game, although his number has slipped to 25.2 points so far this season. Even given that slippage, the rate is more than enough for Bryant to reach Jordan in the relatively short-term.
The difference between Jordan's career total and Bryant's total through Tuesday is 5,621 points. That equates to 223 games at his current scoring average of 25.2 points. With 47 games left this season, assuming Bryant plays all of them, Bryant would need to maintain this season's scoring pace for 176 games, or 2.15 full seasons, after this year. In other words, assuming no further slippage and that Bryant averages 25.2 points for the duration, Bryant would pass Jordan early in the 2013-2014 season. That season happens to be the last of Bryant's current contract, when he is scheduled to make $30.5 million dollars at age 35.
That should be considered a best-case scenario, and not particularly likely because scorers universally fall off as they progress through their thirties. For the sake of argument, let's say Bryant finishes this season scoring 25.2 points, but is only able to average 20 points per game from there on out. It would take Bryant 222 games, equal to 2.7 full seasons, averaging 20 points per game, starting with next season, to reach Jordan's career mark. In other words, Bryant would still be on pace to pass Jordan in 2013-2014, it would just happen in the spring rather than the fall.
Even if Bryant were to fall off dramatically, to, say, 16 points per game following this season, it would still only take Bryant 277 games, or 3.3 seasons, to pass Jordan. In other words, even with a very conservative estimate, Bryant would pass Jordan in 2014-2015, at age 36. Jordan played until he was 39, in a diminished capacity, and he was still able to average 20 points per game his final season. Surely, by comparison, Bryant will be able to average 16+ at age 36, even with the extra miles caused by his prep-to-pro jump and no mid-career sojourns to play minor league baseball.
What about the impact of health? Through 14 full seasons and the start of this season, Bryant has played in an amazing 91.7% of Los Angeles's regular season games. At his current scoring rate, he would still pass Jordan in 2013-2014 even if he missed his average of roughly 8 games a season. At 20.0 points per game, missing 8 games a season, he would pass Jordan at the very end of the 2013-2014 season. Playing 75 games per year and scoring 16 points per game, he would pass Jordan in late 2014-2015.
Given the length of his contract, his excellent health and his scoring output to this point, Bryant will almost certainly end his career in third place on the all-time scoring list, at least, and could challenge Jabbar and Malone should he continue playing into his late-30s. But third place would be good enough to top Jordan, and surely that's where Bryant wants to be.
For a more detailed and refined projection of Bryant's career scoring progress, check out this 2009 post from Basketball Prospectus.