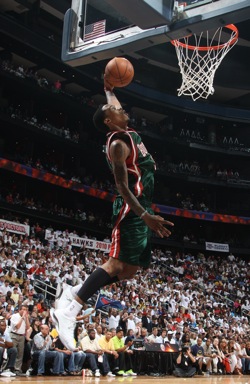 Posted by Royce Young
So the NBA has made it official. Your four dunkers in this year's Slam Dunk Contest are
Blake Griffin
,
Serge Ibaka
,
JaVale McGee
and
Brandon Jennings
.
Some see it as a bit of a lackluster crowd and while sans Griffin it's missing a big name, I see it as an intriguing group. Griffin and Ibaka are power finishers, McGee is a stupid athletic seven-footer and Jennings is your classic small guard that can leap. Plus he's left-handed which always makes dunks look a little cooler.
One thing that's somewhat interesting to be is the dunking resumes each bring in though.
According to CBSSports.com's very cool tool the Dunk-O-Meter,
Griffin leads the league with 81 slams. McGee has 55 which puts him seventh. Ibaka, who plays less, has 41 finishes putting him 13th. And then there's Jennings who on the season, has only two, yes
two
, dunks.
A dunk contest participant with just two actual dunks. Seems a little strange.
Now Jennings is at a disadvantage because of where he plays. When you're a point guard, you don't have the luxury of standing under the rim just waiting for a guard to set you up for a dunk. So it's natural his number is lower.
Russell Westbrook
is the top dunking point guard with 25. After that it's
Monta Ellis
with 17, then
John Wall
with 10. So it's not like the point guard position really lends to a lot of high-flying finishers.
Plus, the contest isn't about in-game dunking. It's about flying high and showing off, something Jennings is very good at. For instance,
Nate Robinson
who has taken home the crown a record three times only has
one
dunk this season. Granted, a lot of people feel like Robinson was a problem in the contest but still, we all know he can dunk. He just hasn't had a lot of opportunity in games.
Consider some of the league's top dunkers.
LaMarcus Aldridge
is third with 64 crams.
Roy Hibbert
is in the top 20. I don't think anyone would be all that excited to see either one of those guys in the contest. So obviously it's not about how many dunks you have, it's about how
good
they are.
Griffin is going to be disappointing. People are expecting so much from him that no matter what, he's not going to be able to live up to their expectations. I think unless he jumps over the jumbotron or makes a dunk from the 3-point line, fans won't be satisfied. This isn't to say Griffin won't be absolutely
awesome
-- because he will be -- but I'm not sure he's going to give the performance people hope for.
McGee is going to impress people and will most certainly go for a free throw line punch. With his size and length, he'll easily pull it off.
Ibaka already has accomplished a free throw line yam
and also has one dunk contest title under his belt. Those three come with a pretty good pedigree. It's Jennings who people are wondering about.
But don't let the stats fool you. Jennings may just have two aerial attacks to his name this season but that doesn't mean he won't hold his own.