Los Angeles Lakers star Kobe Bryant says this year's struggles aren't as bad as those of the 2002 Lakers. Posted by Ben Golliver.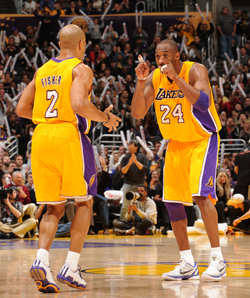 It's January, and the Los Angeles Lakers aren't undefeated on the season (they've even dropped a few games they really shouldn't have), so some Lakers fans and critics are freaking out a little bit, predicting apocalypse for the two-time defending NBA champions.
Even though the Lakers are 24-11, tops in the Pacific Division, a recent up-and-down stretch that included a blowout home loss to the Memphis
Grizzlies
raised some concerns that the team might not be able to three-peat.
Leave it to Lakers star Kobe Bryant to act as both history teacher and calming influence. In
comments posted on ProBasketballTalk.com
, Bryant says this year's struggles -- which include forward
Ron Artest
getting into it
with coach Phil Jackson this week -- are nothing compared to what the last three-peating Lakers, led by
Shaquille O'Neal
and Bryant, went through.
"We were awful," Bryant said. "People here forget about that stuff. We were awful and dysfunctional. Here, right now, we're just awful. It's much better now than it was. People forget that three-peat that we had to get to, we were [expletive]. We had to go on the road in San Antonio and thank God the Eastern Conference was terrible. We winded up having home court advantage in the Finals but we were awful."
It's going to be a long haul to achieve a three-peat, it always is, but Bryant makes an excellent point. Going through bad stretches of play is one thing; dealing with bad internal chemistry is another. The Lakers' core is a veteran, tested group that has been there and done that many times, and it's as ego-free on the court as can reasonably be expected from a star-studded group of millionaire basketball players in Tinsel Town. And, other than rehabbing center
Andrew Bynum
, whose role is still a bit of a question mark as he returns from knee surgery, the important pieces are known quantities that have exhibited success together in the past.
An NBA title is never totally smooth sailing. But bet against the defending champs, talented and playoff-tested, at your own risk.
For more on the Lakers' struggles so far this season and some possible recipes for turning it around, check out CBSSports.com's Ken Berger
breaking it down on video
.